About the Artist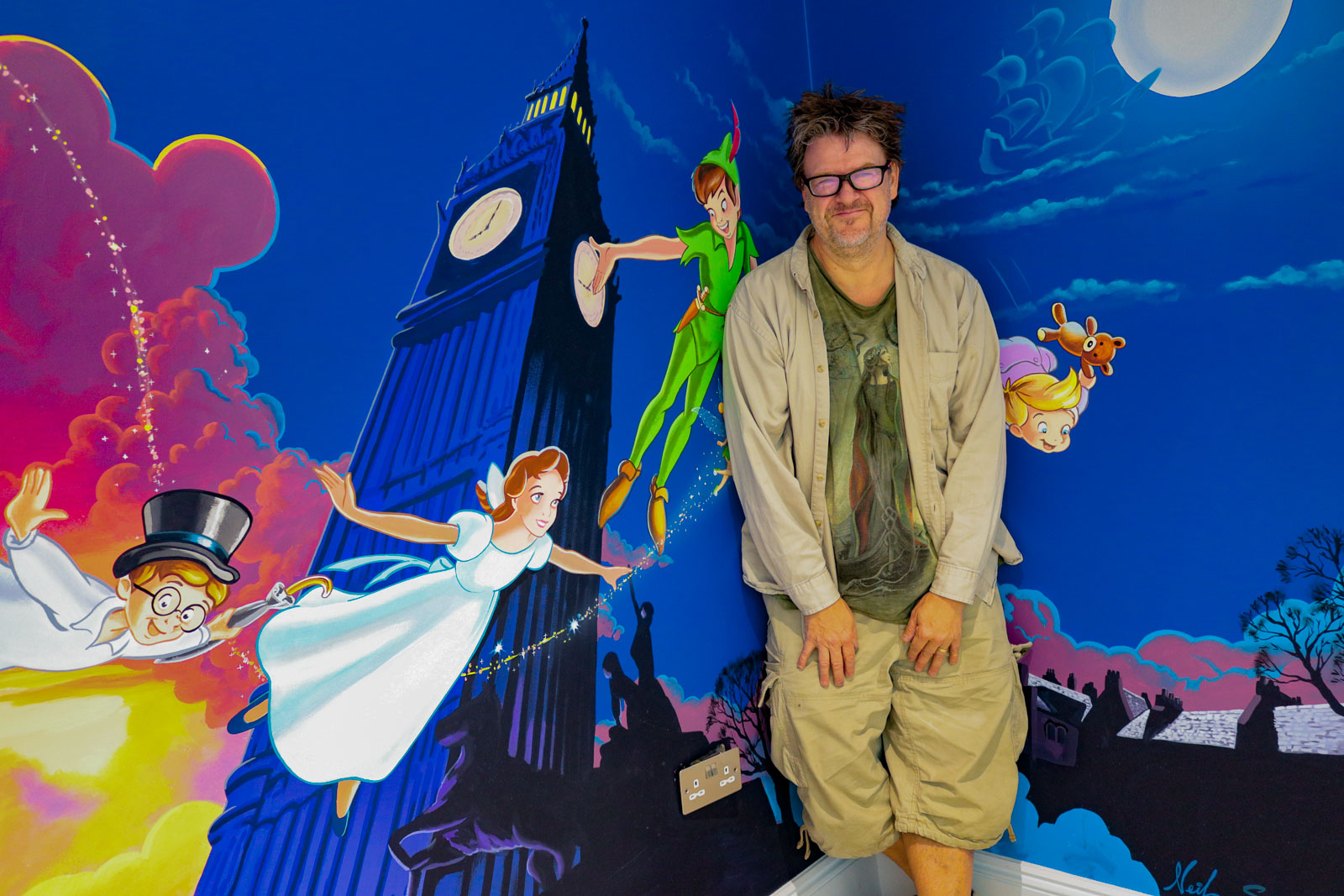 NEIL
WILKINSON-CAVE
If you've made it this far then you'll probably be interested in learning a little more about me and the way I work.
So hi, my name is Neil and I am a mural artist by trade. I have been painting colourful and detailed artwork all my adult life, and fabulous murals professionally since 2002.
I did some years at art college, Chelsea, and after the education system I went on to do some "real" work, but after a few years on that treadmill I decided that that life wasn't for me and threw myself back into my art, and ultimately into the living I now make from it, and after twenty years of painting murals full time for people I'm still very passionate about it.
Based in a quiet little corner of Devon, I'm happy to work locally, nationally and internationally, with artwork appearing all over the UK, as well as the USA, Europe and China. I have also been known to illustrate the odd children's book or two.
My Life
In my home life I'm married with two young children who are growing up fast, we all live in a fairly modern, standard little house in the lovely south west of the UK.
My Art
Artistically I tend to lean towards realism over abstract, painting things as I see or imagine them and enjoying the challenges of understanding form and light, then trying to recreate them with paint. I also prefer naturalistic rather than non-objective art, or impressionism over expressionism, though not exclusively as I like to bring feeling into the work I create, and primarily I use composition and the colour pallette choices to achieve this, rather than the abstract art approach. The artwork I create I think reflects the wonders I see around me in life, nature and also inside the rolling landscapes of our deeper minds, rather than focusing as some artists do on the macabre or negative, and this positivity mirrors my general attitude towards life. I think this creates in my work an uplifting emotional connection with the viewer which, when applied to a wall in for example somebody's house, makes it pleasing, heartwarming and inspiring to live with, be it for children or adults.
HAND-PAINTED MURALS
I provide a bespoke hand-painted mural service, which includes children's murals, home and garden artwork, and murals for business and the wider community. You are invited to view my portfolio in the various galleries on this website, they represent a cross section of the work I have been asked to do over the years..
I love painting beautiful artworks for anyone with a seed of an idea or a dream, there are possibilities to suit most budgets, so I'm sure to be able to create something you'll love that's within your budget.
As a mural artist or occassionally as part of a group of mural artists, I've hand-painted hundreds of mural commissions large and small around all sorts of homes, business premises and other spaces, including many children's bedrooms and playrooms, also swimming pools, bathrooms, garden rooms and outdoor walls, in restaurants, offices, games room and cinema rooms, on the sides of boats, for soft-play centres and playgroups, schools, hospitals, care homes, the list goes on...



"...Neil Wilkinson Cave magically transformed our school library with the beautiful literary themed woodland mural that you see pictured. Neil is incredibly talented and you should not hesitate to get in contact with him if you have a school, community or even personal space that you would love to transform. I would recommend him one hundred times over - you really should get in contact with him if you even have a seed of an idea about a space you'd like to change!" Kate Munkenbeck Stannard (Aardman, & Parent at Lydeard St. Leonards Primary School).



"Thank you @sacredart_murals for Lyla's new bedroom painting on her wall... We absolutely love it! She will make many happy memories playing in here with her friends. I keep going in there just for a peek, I think we may swap bedrooms with the baby now :) We are so pleased.. Really recommend anyone who wants this done it's very much worth every penny." John and Nadia Burns