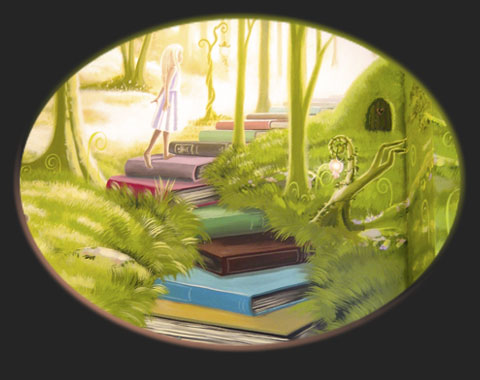 You never know where a book may lead...

This Primary School Library mural featuring an imaginative woodland fantasy scene with a book staircase that fires the imagination, was painted by hand, directly on to the walls.

The work taken to create this library and provide its contents was largely funded by sponsorship, including a local supermarket, and goodwill from local businesses. It just goes to show what can be achieved with a little energy and targeted fund raising.


Careful, you might wake them...
Fantasy Woodland Mural
This main feature of little girl walking up a staircase of books really stirs the imagination...
School Library Mural
Woodland Mural helps to disguise some boxy areas and radiators.
Mural painted in Lydeard St. Leonards Infants School Library
Some fantasy swirls popping up everwhere
These next two walls facing opposite were painted in a different style for speed, diversity, budget and because some bespoke bookshelves were to go in in front of them, (see the next picture)
...and with the shelves full of books! The idea was that the rabbit warren would be revealed here and there as holes appeared when books are borrowed.
Don't you just love these curved corner shelves...
The new library in action...
Below shows where some of the funding came from, thanks Tesco, and so perhaps a supermarket could help you to fund
your
project...
Get in touch
to chat about
your
school's project.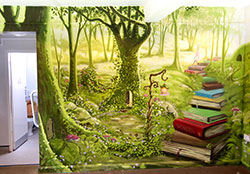 TESTIMONIAL
"We are Lydeard St Lawrence Primary School [Somerset], and this summer, Neil Wilkinson Cave magically transformed our school library with the beautiful literary themed woodland mural that you see pictured. Neil is incredibly talented and you should not hesitate to get in contact with him if you have a school, community or even personal space that you would love to transform. I would recommend him one hundred times over - you really should get in contact with him if you even have a seed of an idea about a space you'd like to change!
The children at our school love the library mural. It actively draws them to the library and there is something very peaceful and calming about being surrounded by the painting. It has gone from being a bland beige boring room, to the literary heart of the school. We are so very, very proud that our school has this wonderful feature. It will have lasting impact for many generations of children attending this school, an image etched in their memories of a creative learning environment.
Neil was totally brilliant to work with. He was able to draw out the exact vision that we had for our woodland theme. When we received the original sketch from Neil, it was totally spot on in terms of what we wanted - in fact it was better than we could ever envisage!
Neil was very professional throughout the process and supplied designs and dates for the painting with quick turnaround. In just two weeks he transformed the space. His rates were very reasonable and he worked so hard on this fabulous painting for us.
He is such a nice chap and very approachable. He has done such a fantastic mural for our school, that I have recently asked him to paint another commission for me. 
Please, don't have any doubts, get in touch with Neil. He's brilliant!"
Kate Munkenbeck Stannard