This fab Jungle Mural made a lucky young lady very happy, and features some great details, like the tiger painted over the door, a splendid looking leopard, and a rhino, snake, parrot, orangutan, elephant and even a tarantula, all set against the backdrop of an awesome mountain waterfall in the jungle scene that goes around the whole room. There's also a wonderful Tarzan style treehouse above the tiger skin bed, and lastly I have painted some fitted wardrobes which shows what can be done to create practical and fun storage solutions for your child's room.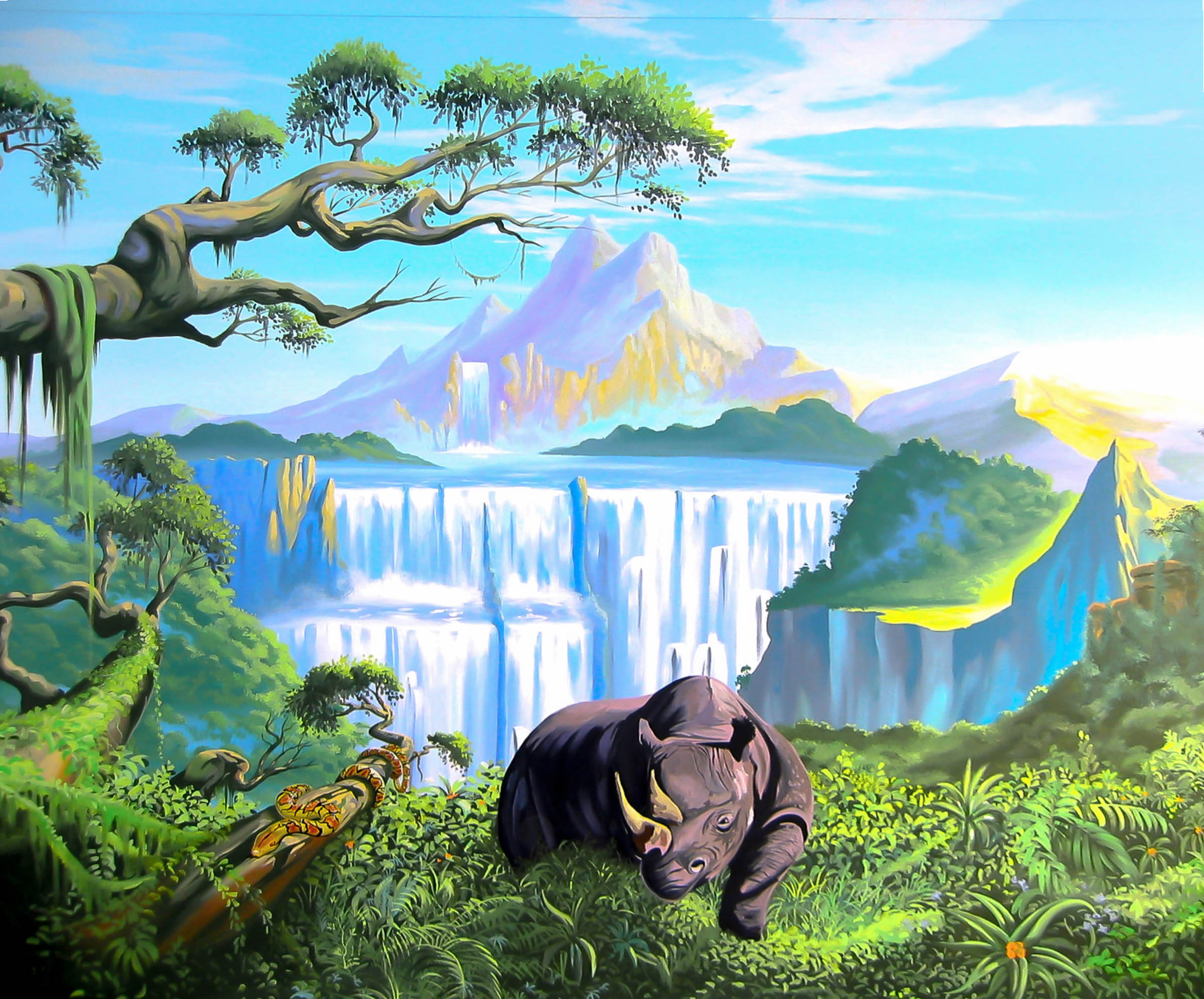 Jungle Wall Mural - This first image shows the main feature wall, with mountains and waterfall in the distance, snake and rhino in the foreground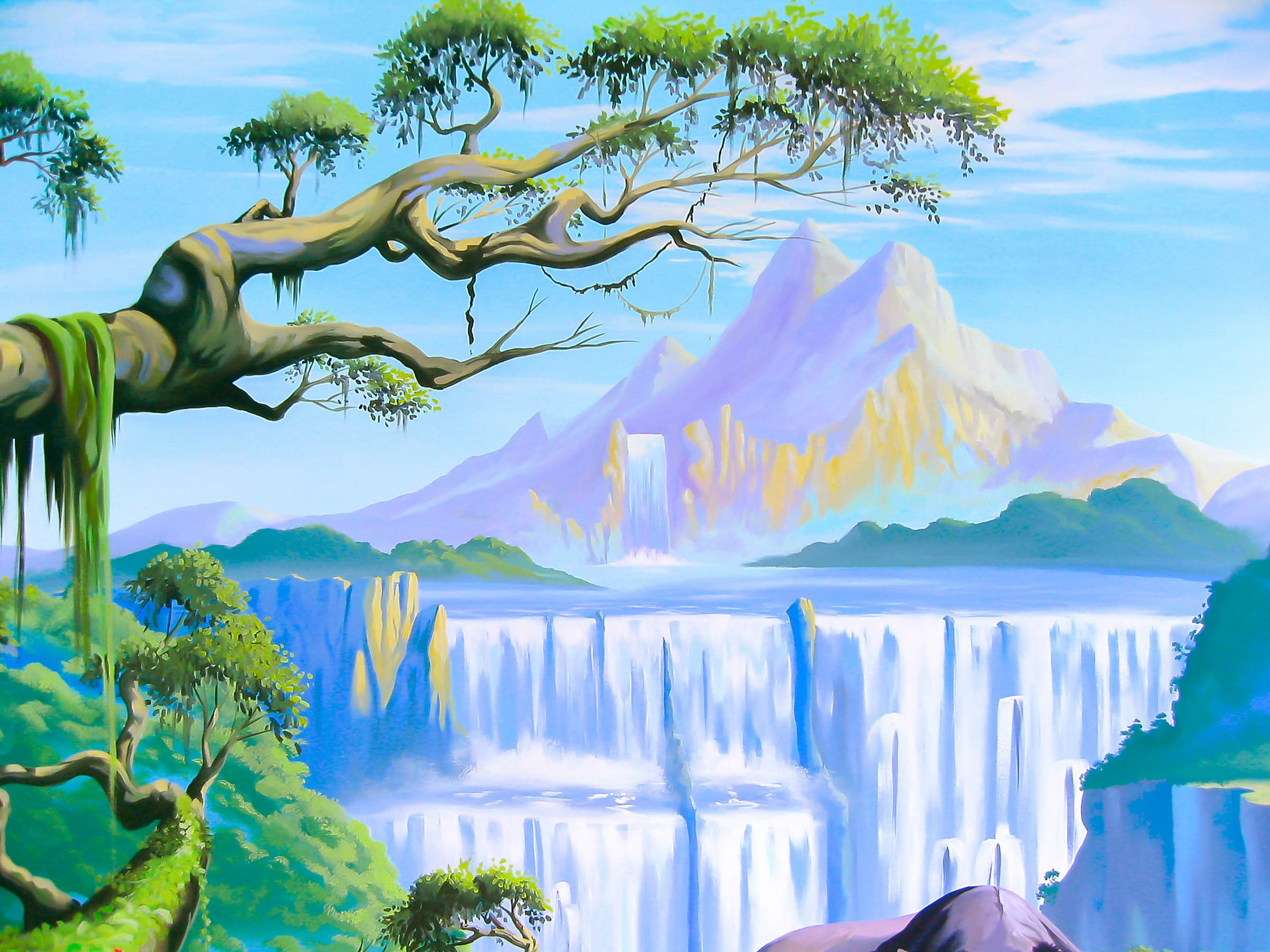 Jungle murals detail of the mountains and waterfall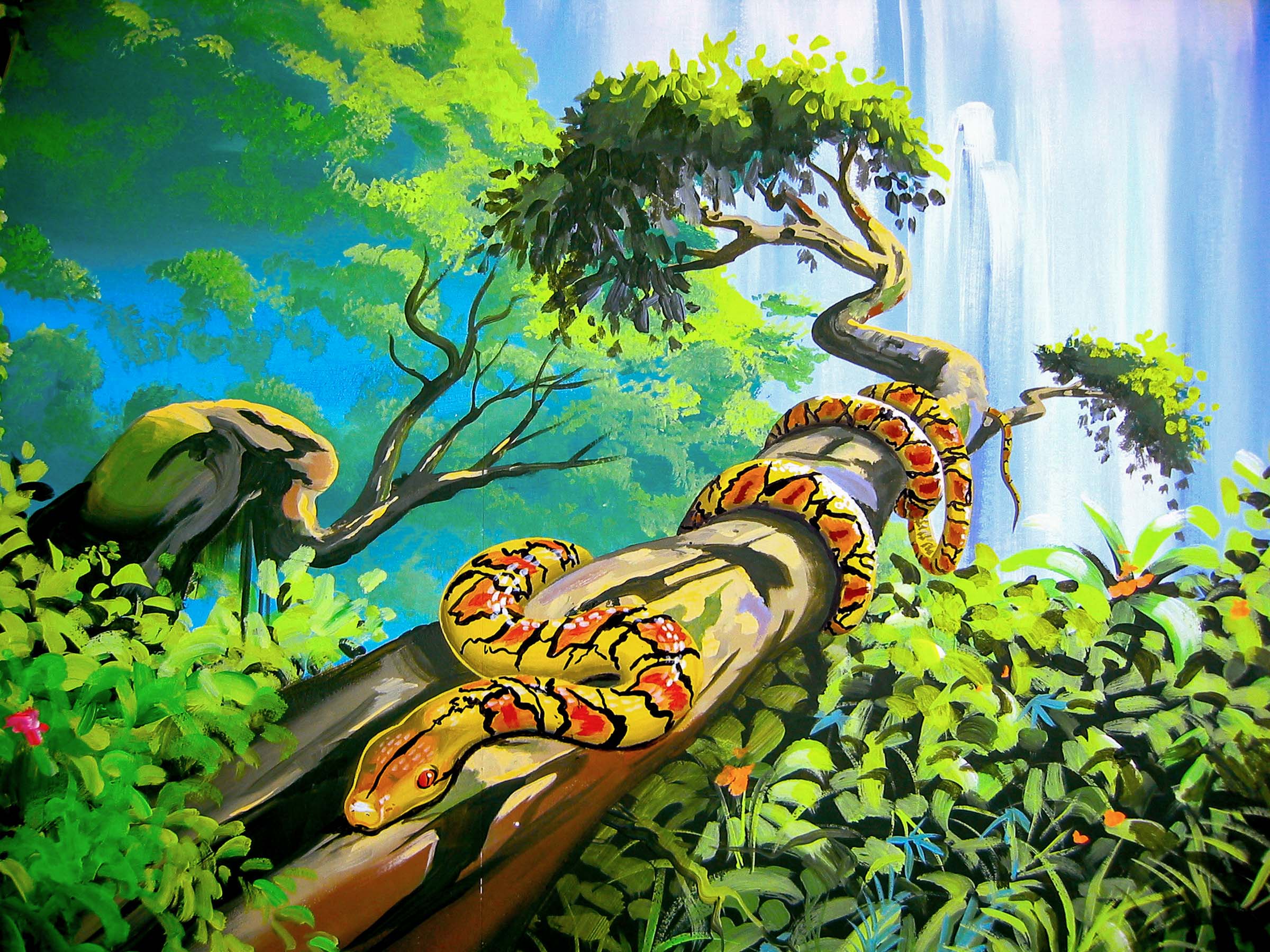 Jungle mural snake wrapped around branch detail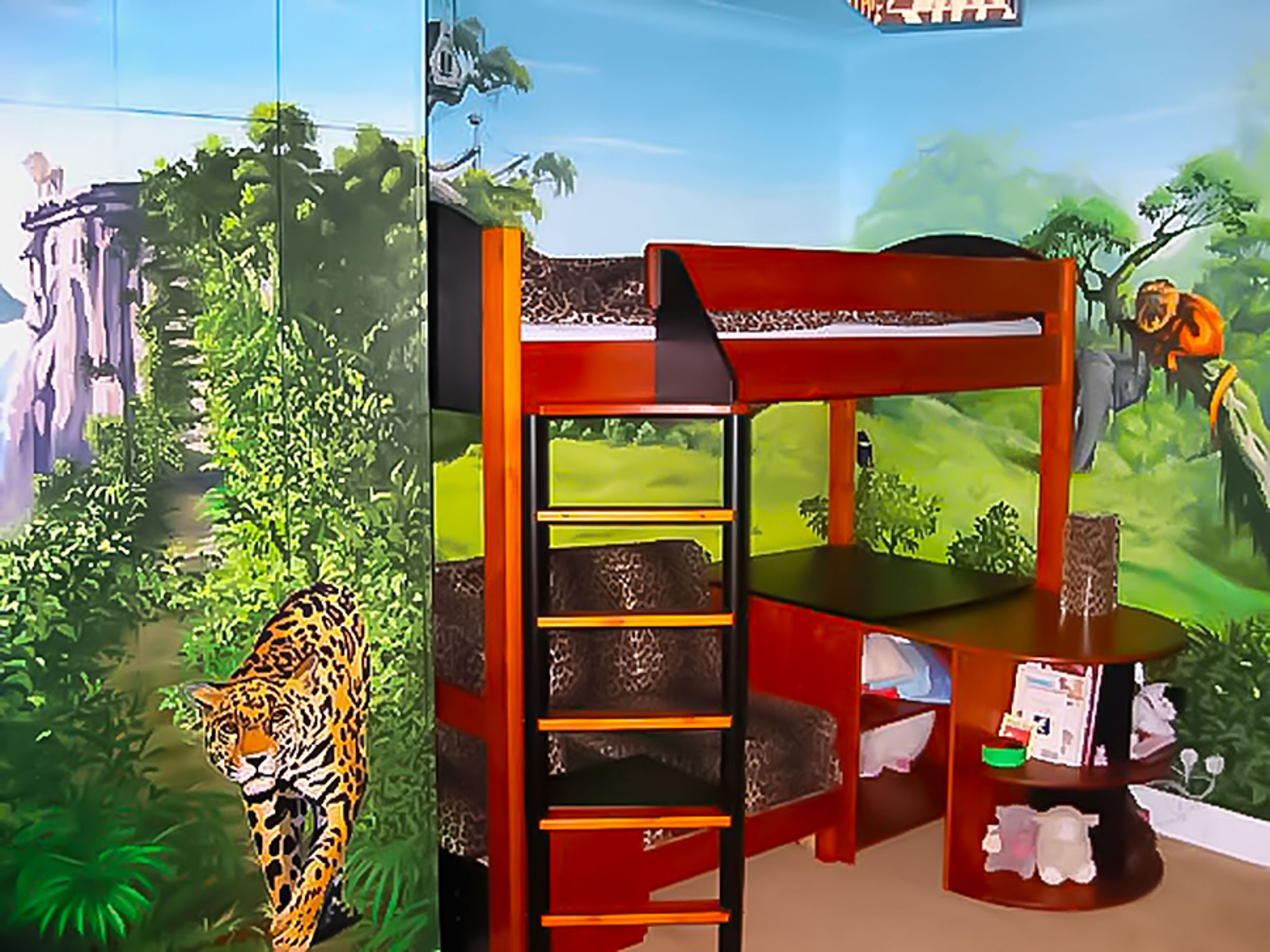 ..and this awesome bed unit went in on the opposite side of the bedroom, however it was chosen after my work was done so some of the positioning of things behind it were, this time, a little out.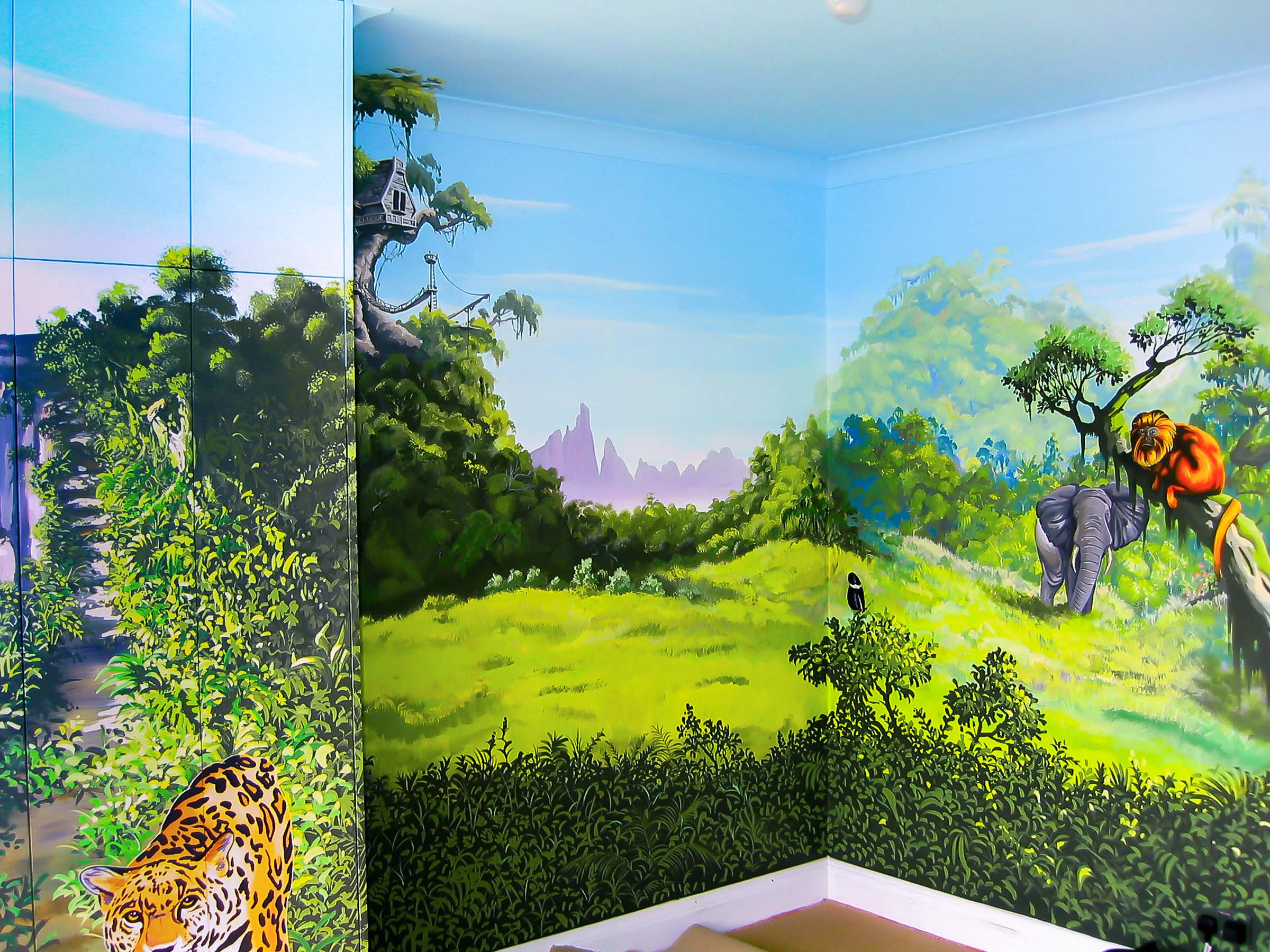 ..here it is before the furniture went in.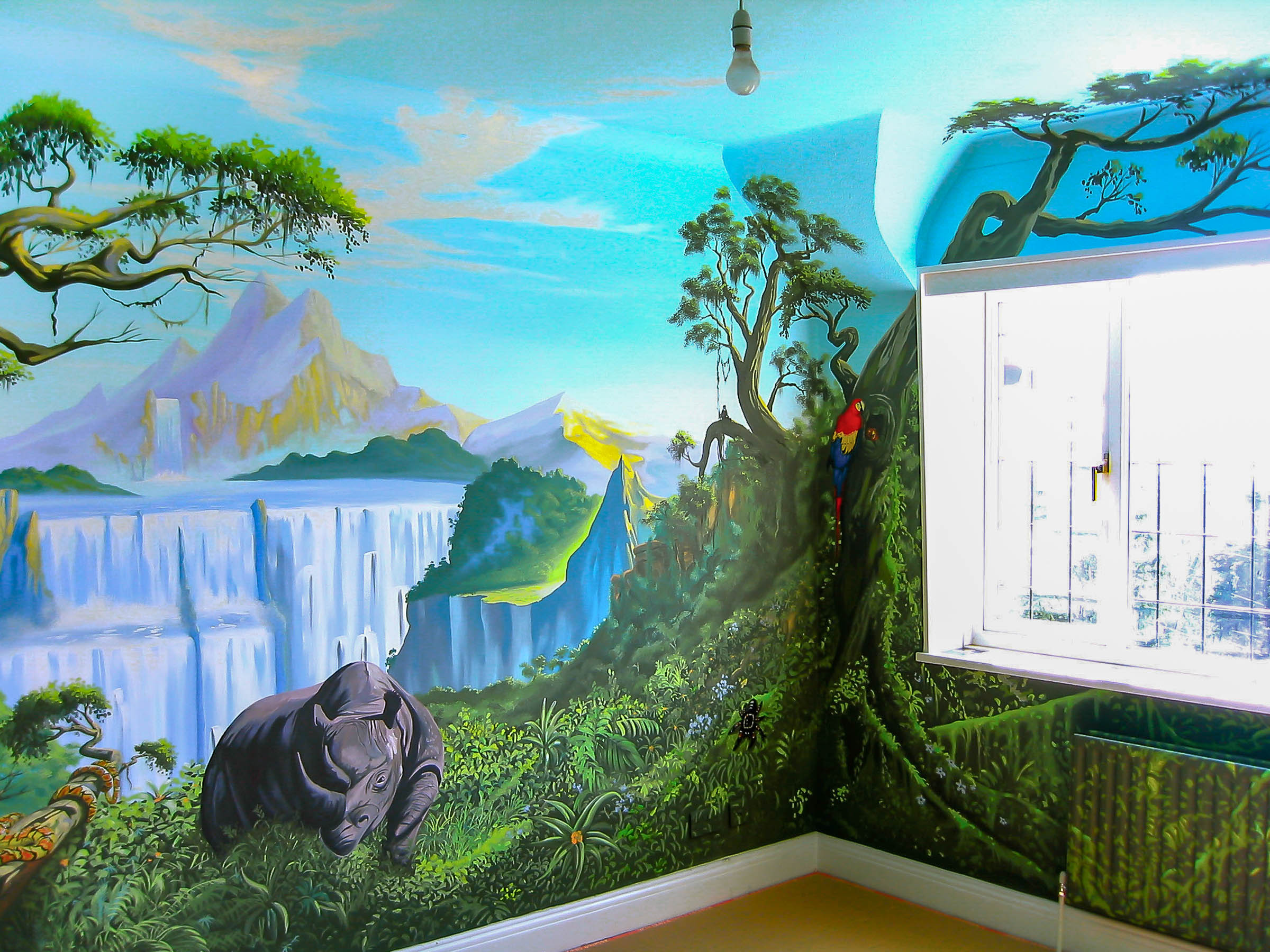 Jungle Wall Mural showing the "parrot" corner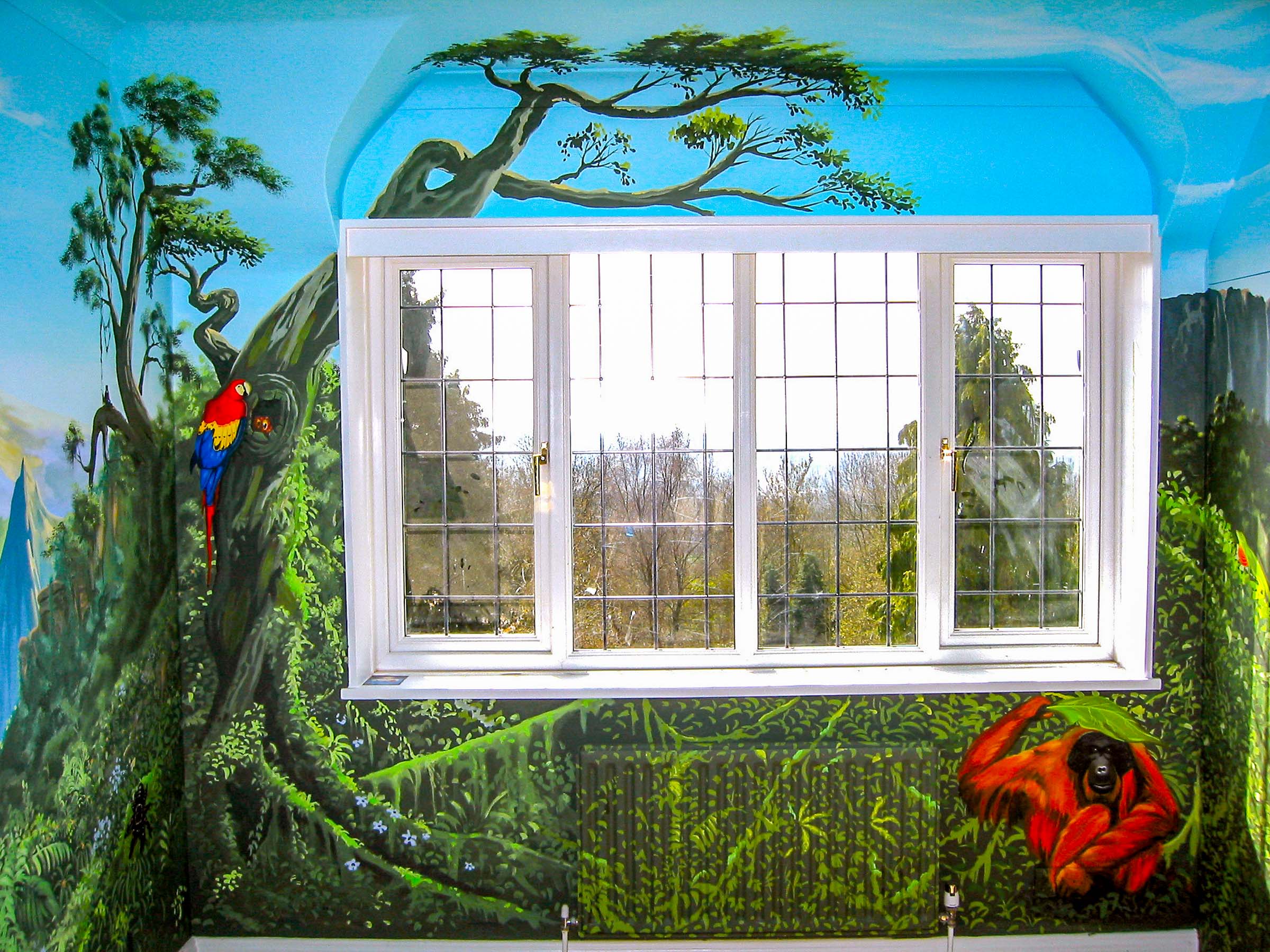 The jungle painted wall opposite the doorway, with parrot and shy orangutan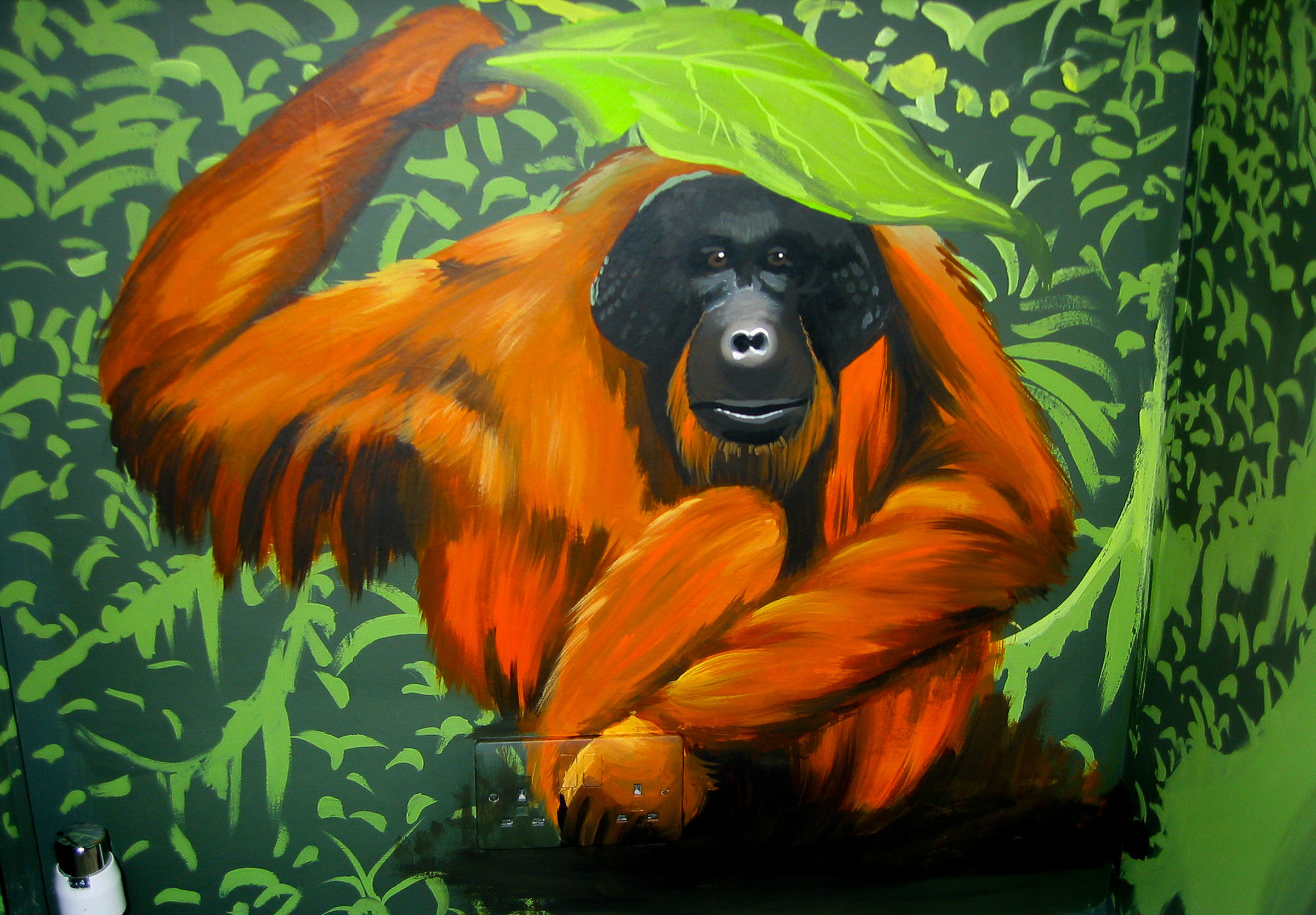 Shy orangutan hiding under a leaf in this mural for kids room
Mural Painted on Fitted wardrobe around the next corner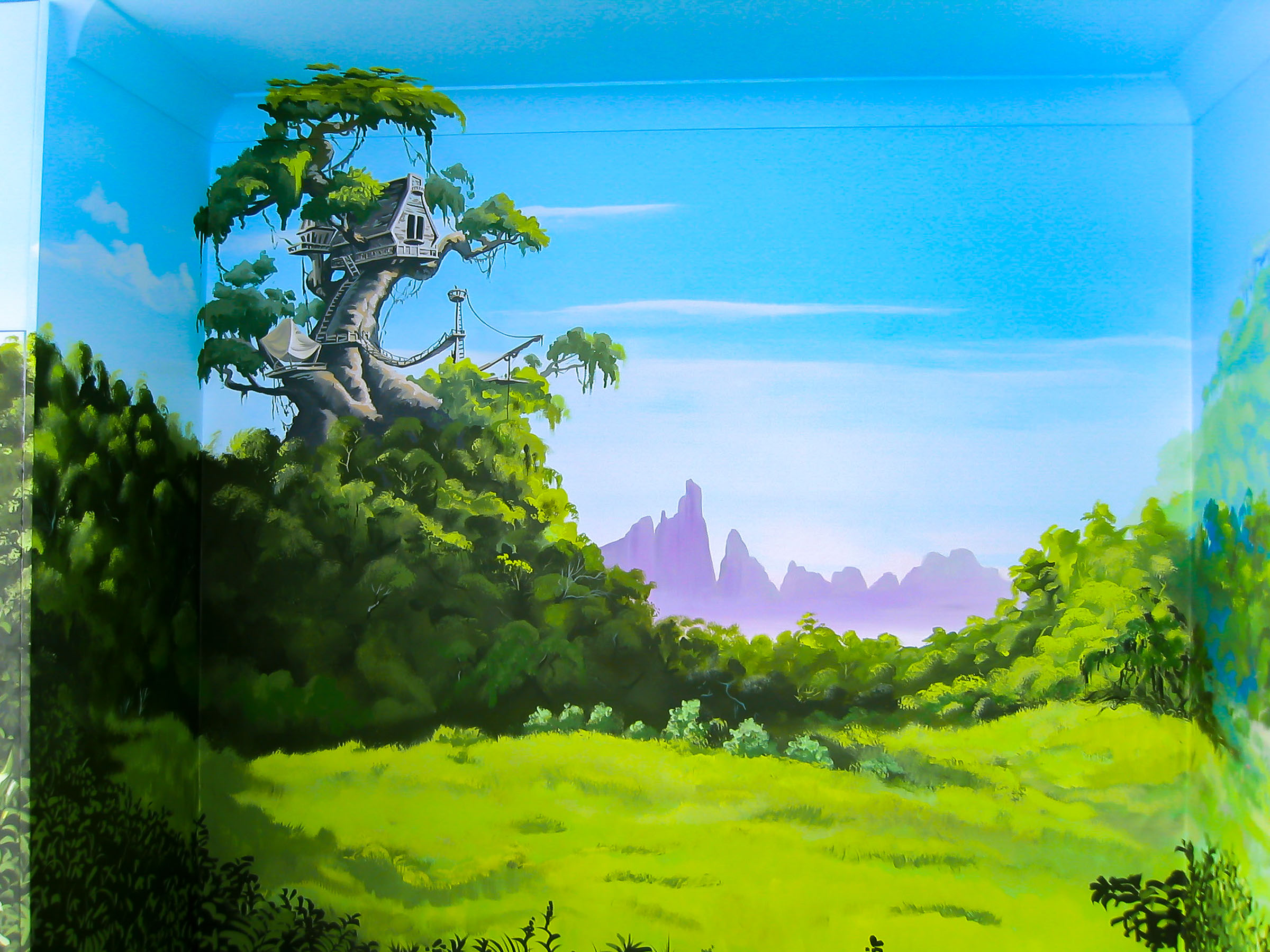 This picture of the Jungle mural shows the alcove for the bed.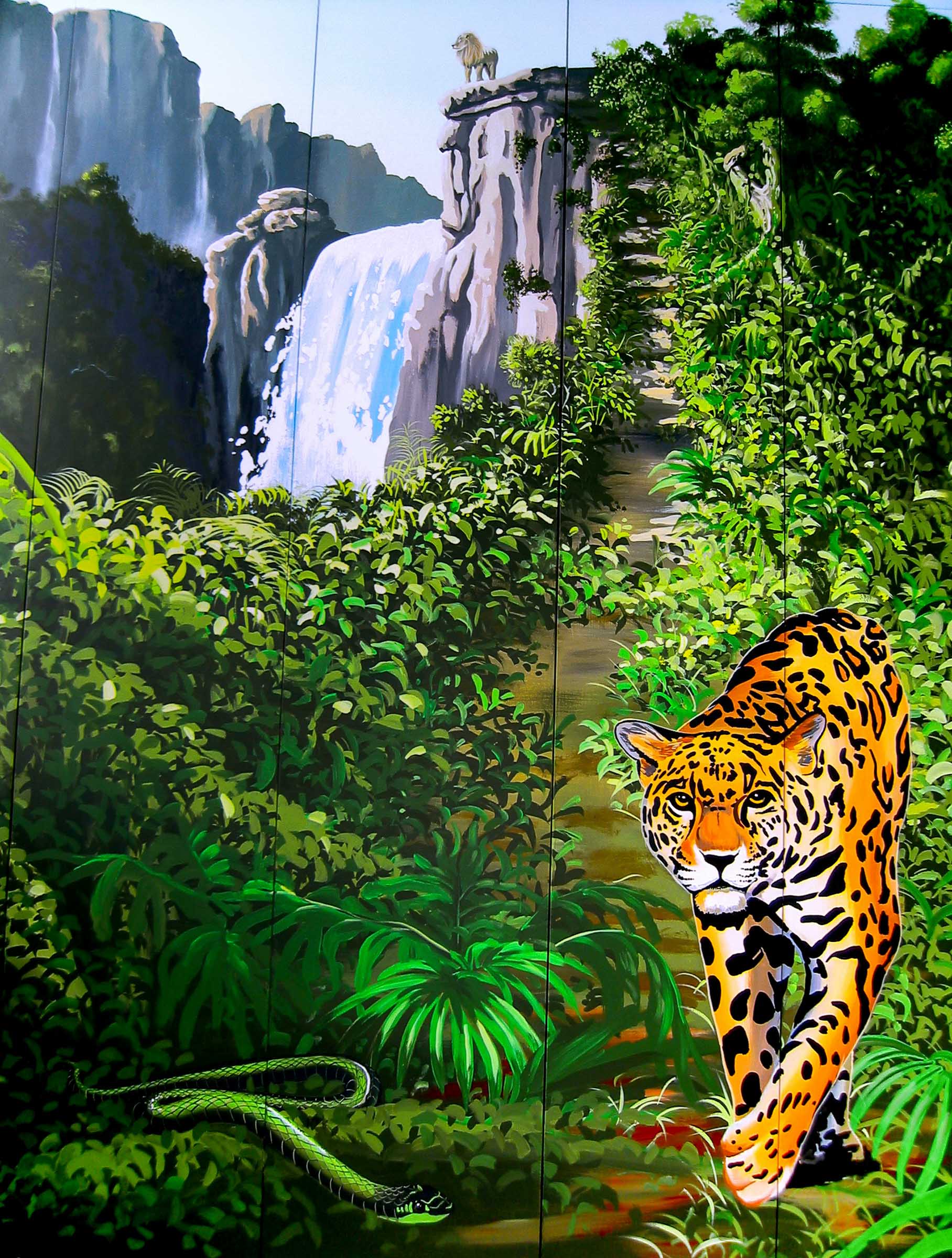 Fitted wardrobe overpainted with jungle mural scene showing an imminent encounter between a jaguar and snake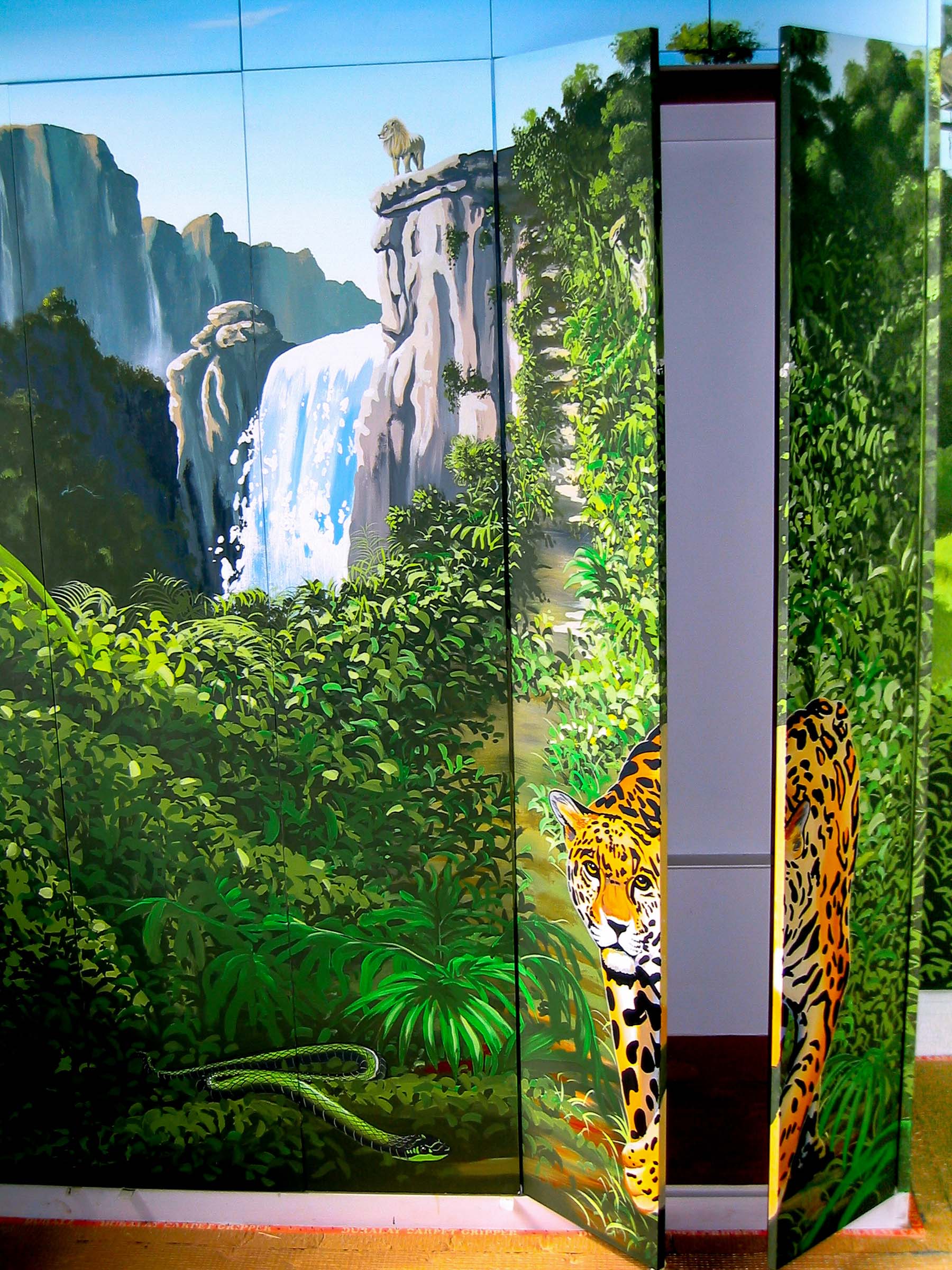 Fitted wardrobe with two of the doors open to show how this works. The doors had "push" catches so no handles were needed. You can also see the inside edge of the doors painted with the mural, which maintains a consistant and neat look.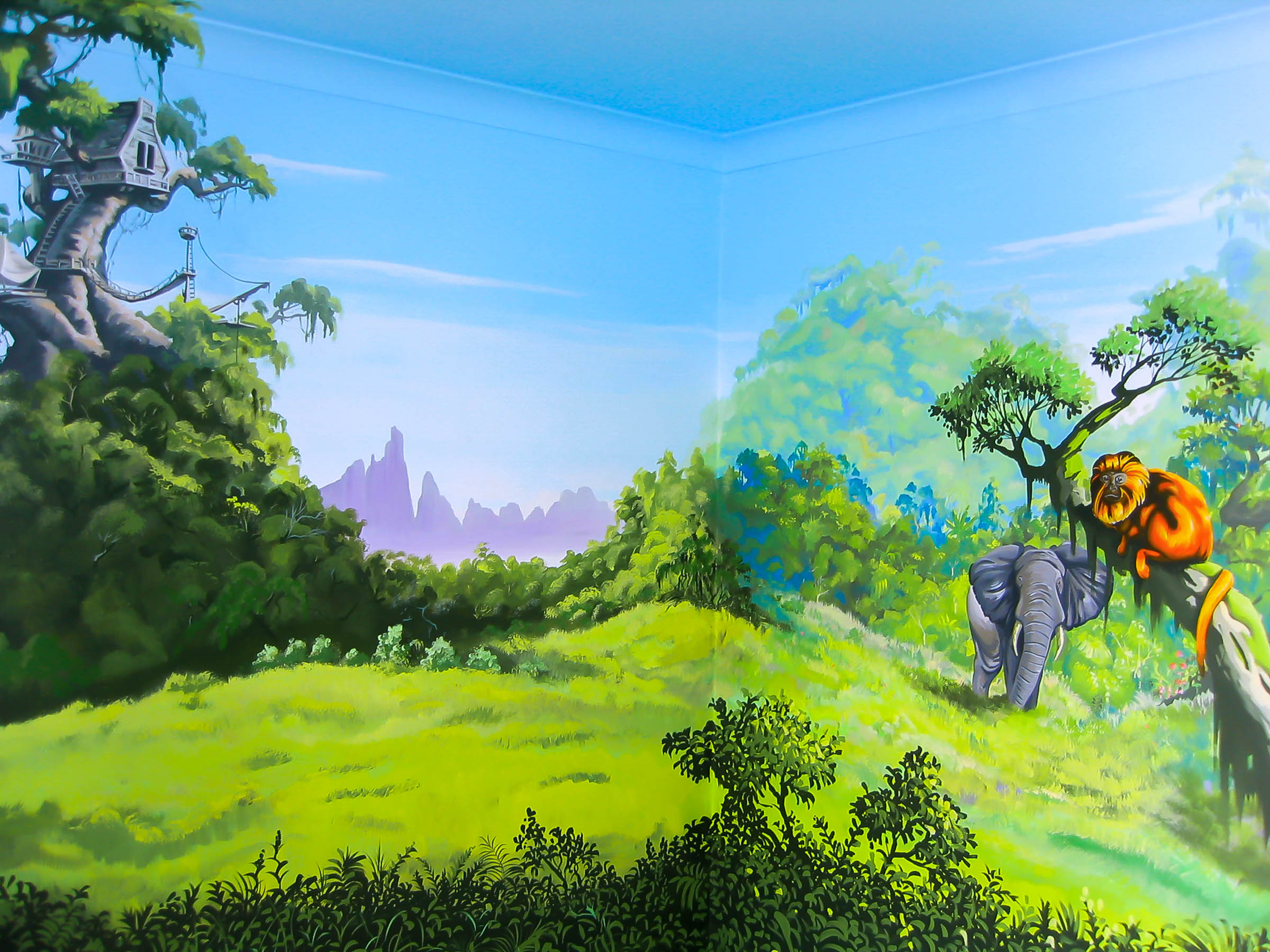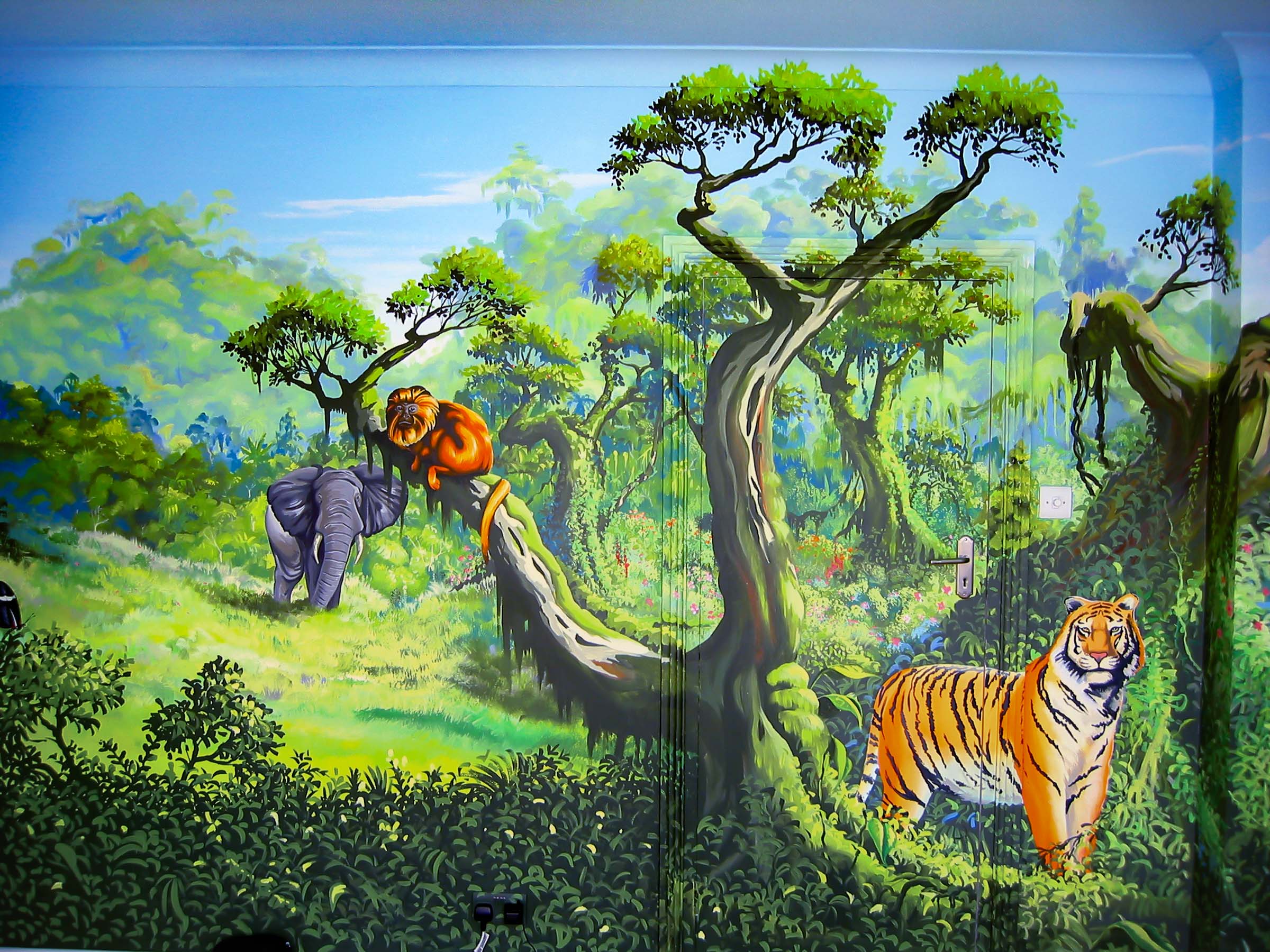 Jungle mural wall opposite the window, with dense jungle, elephant, tiger and golden tamerind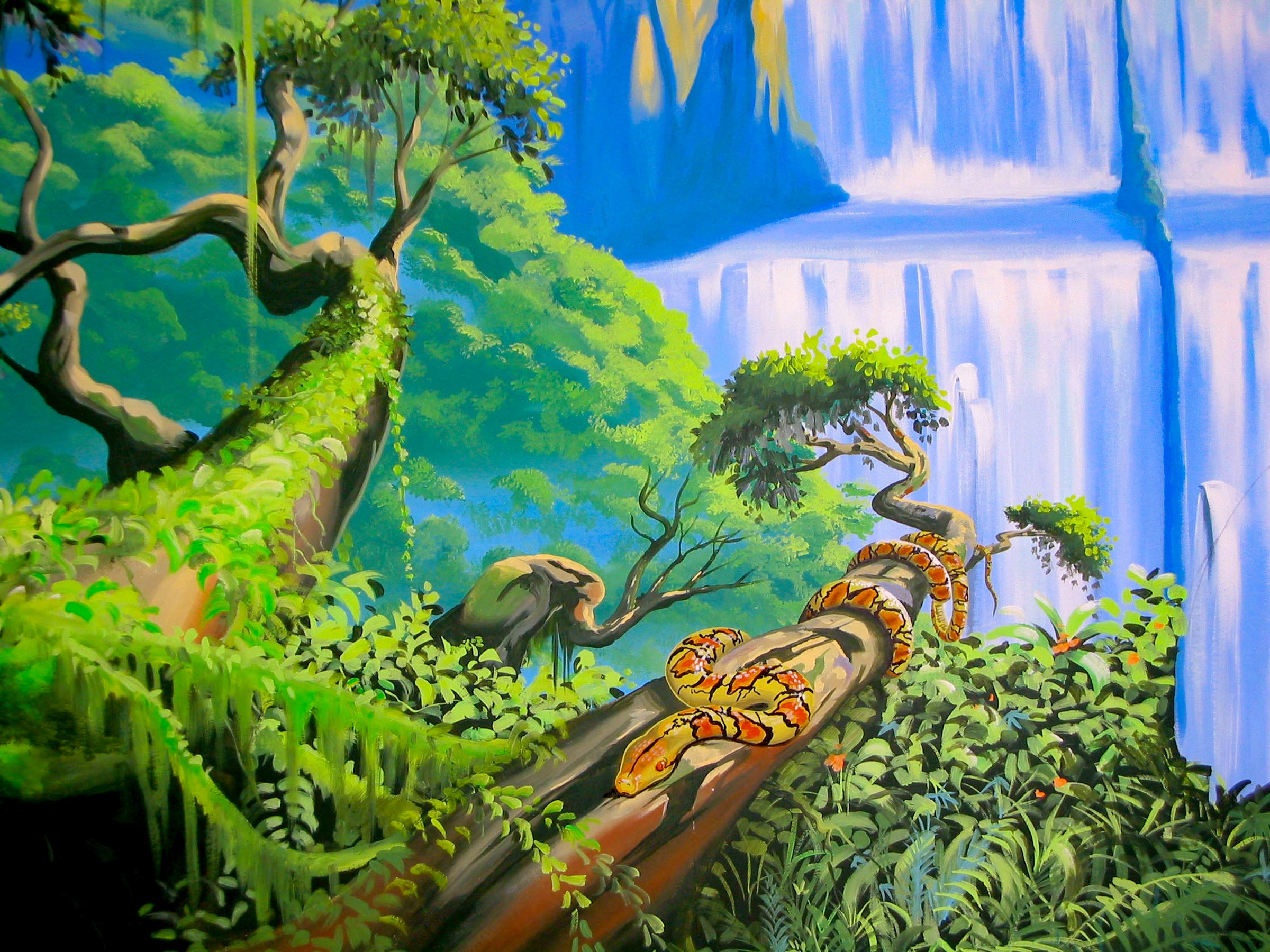 Snake coiled along a branch detail of the mural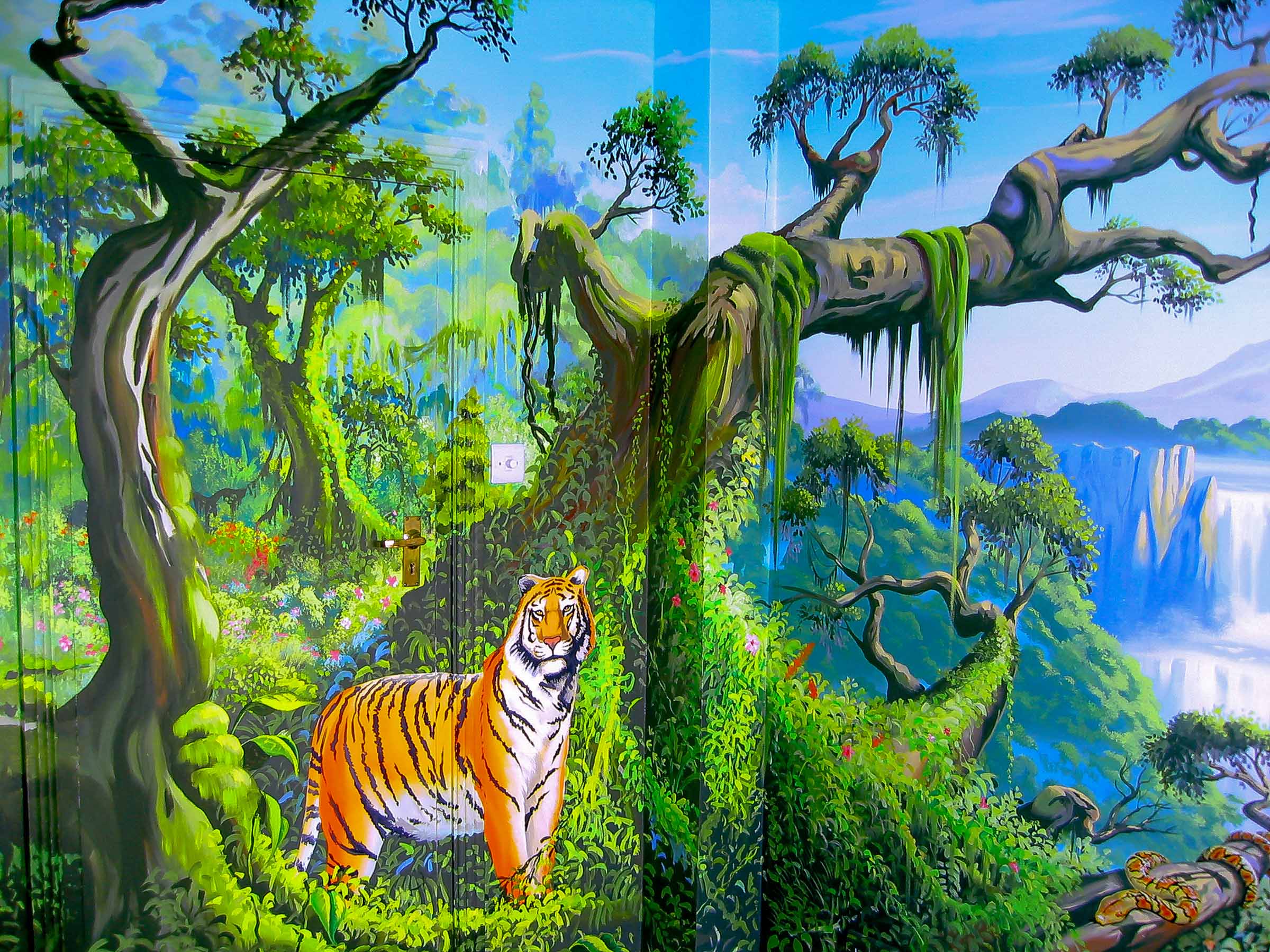 Corner of the jungle mural with tiger, concealing room features like the door and boxed in section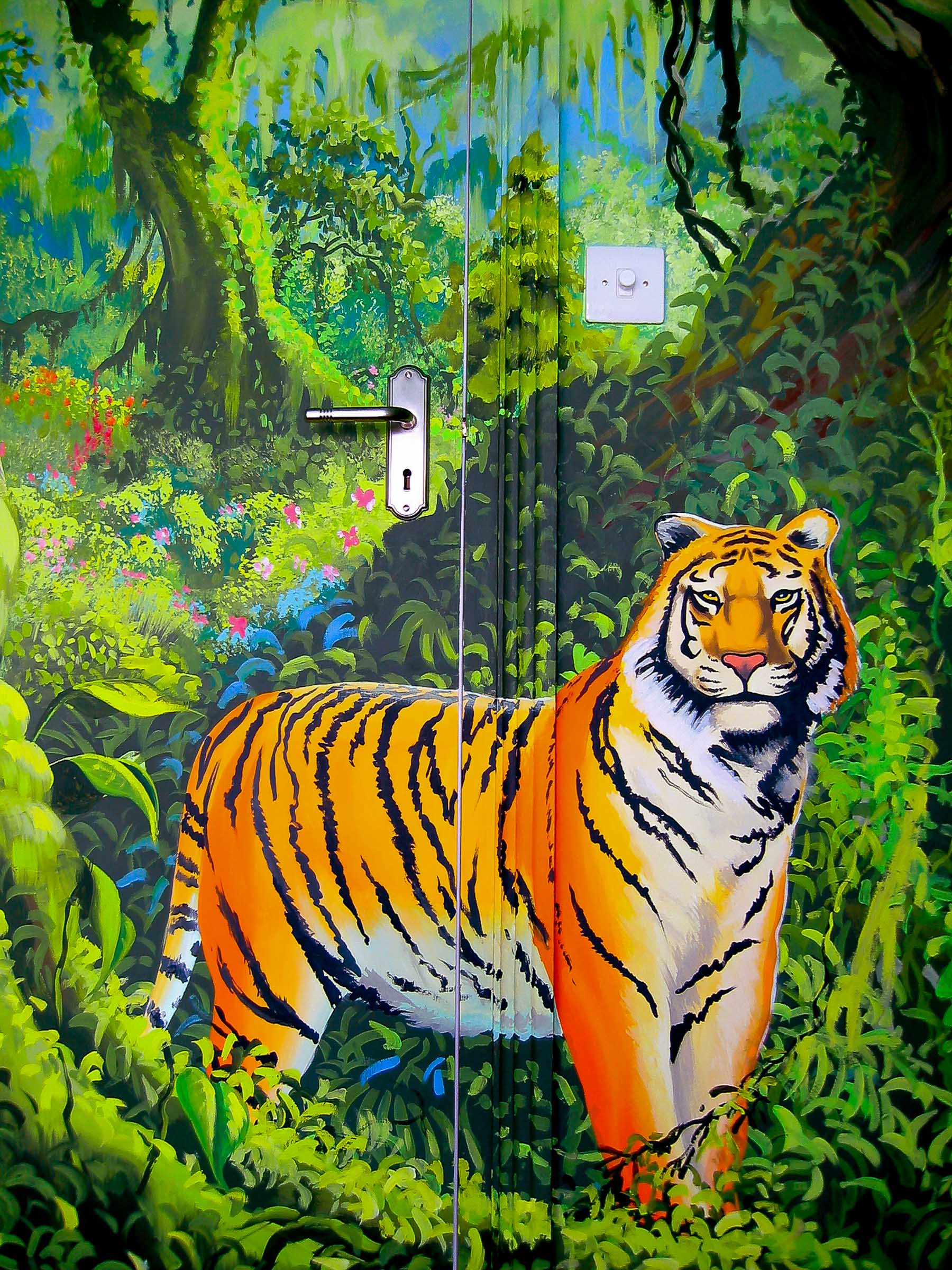 Majestic tiger part of the jungle mural, painted over the door and frame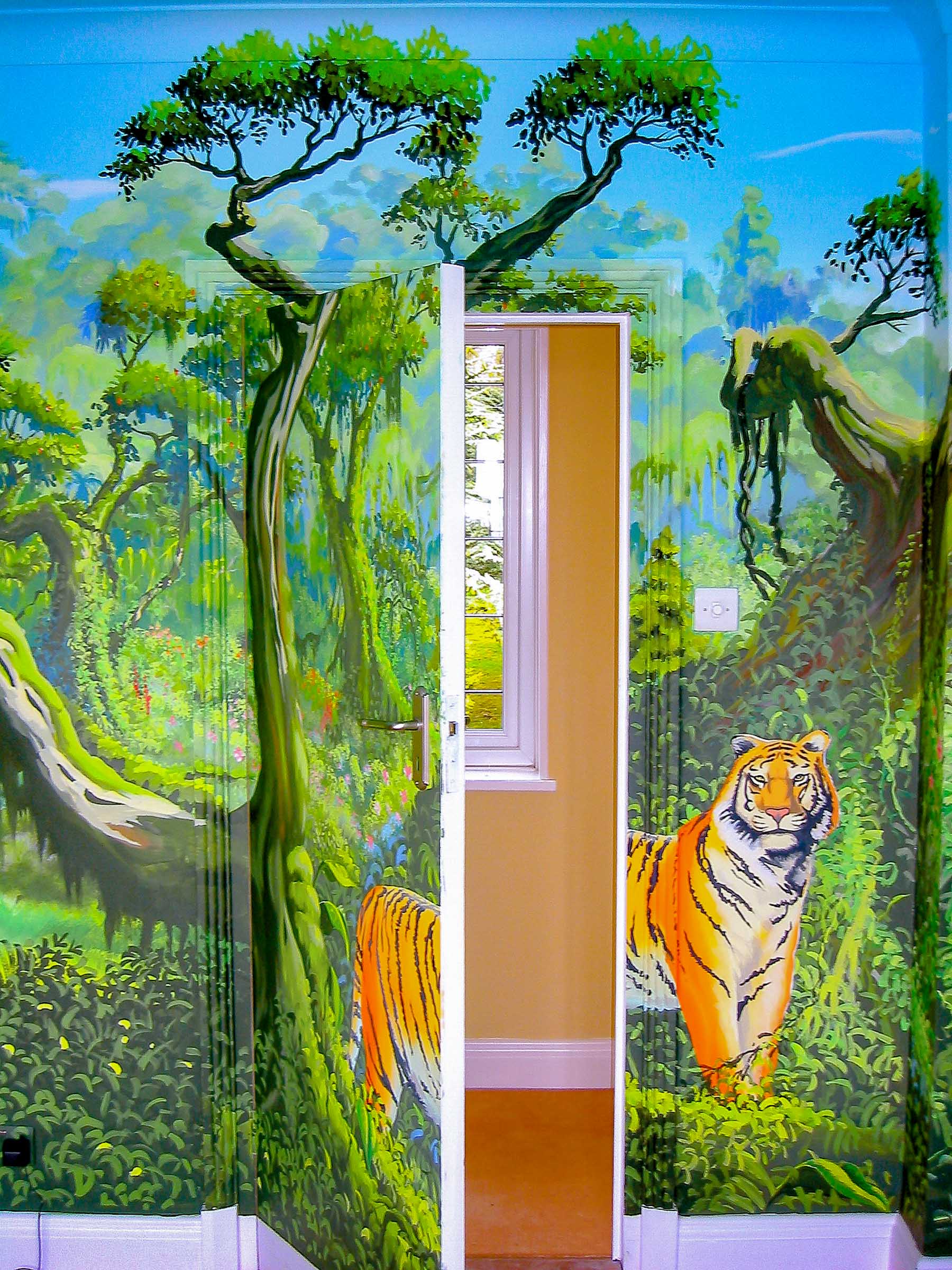 This image shows the bedroom door open, splitting the tiger in half!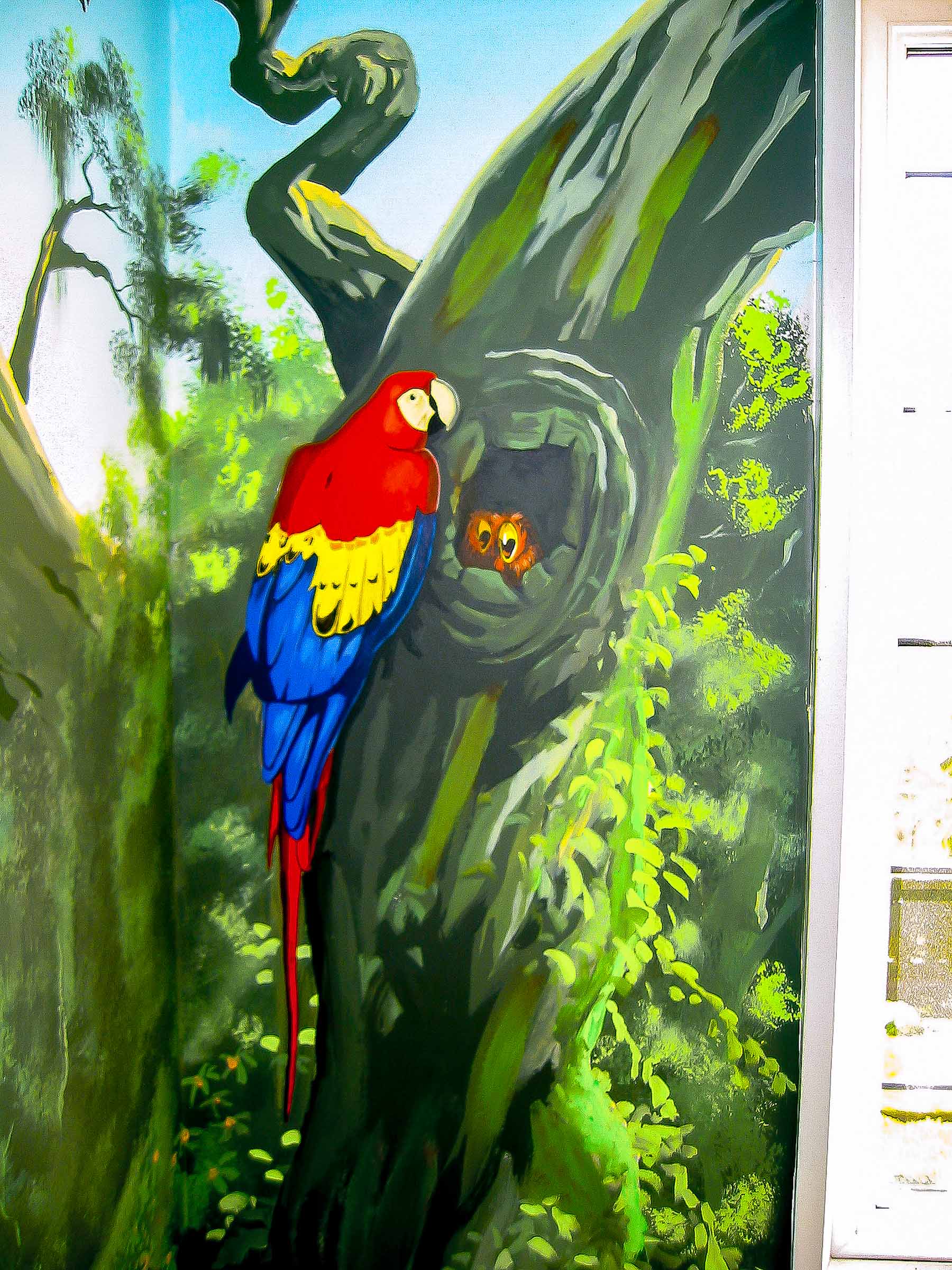 Painting of a parrot in a tree with its chicks, in part of the mural to the left of the window.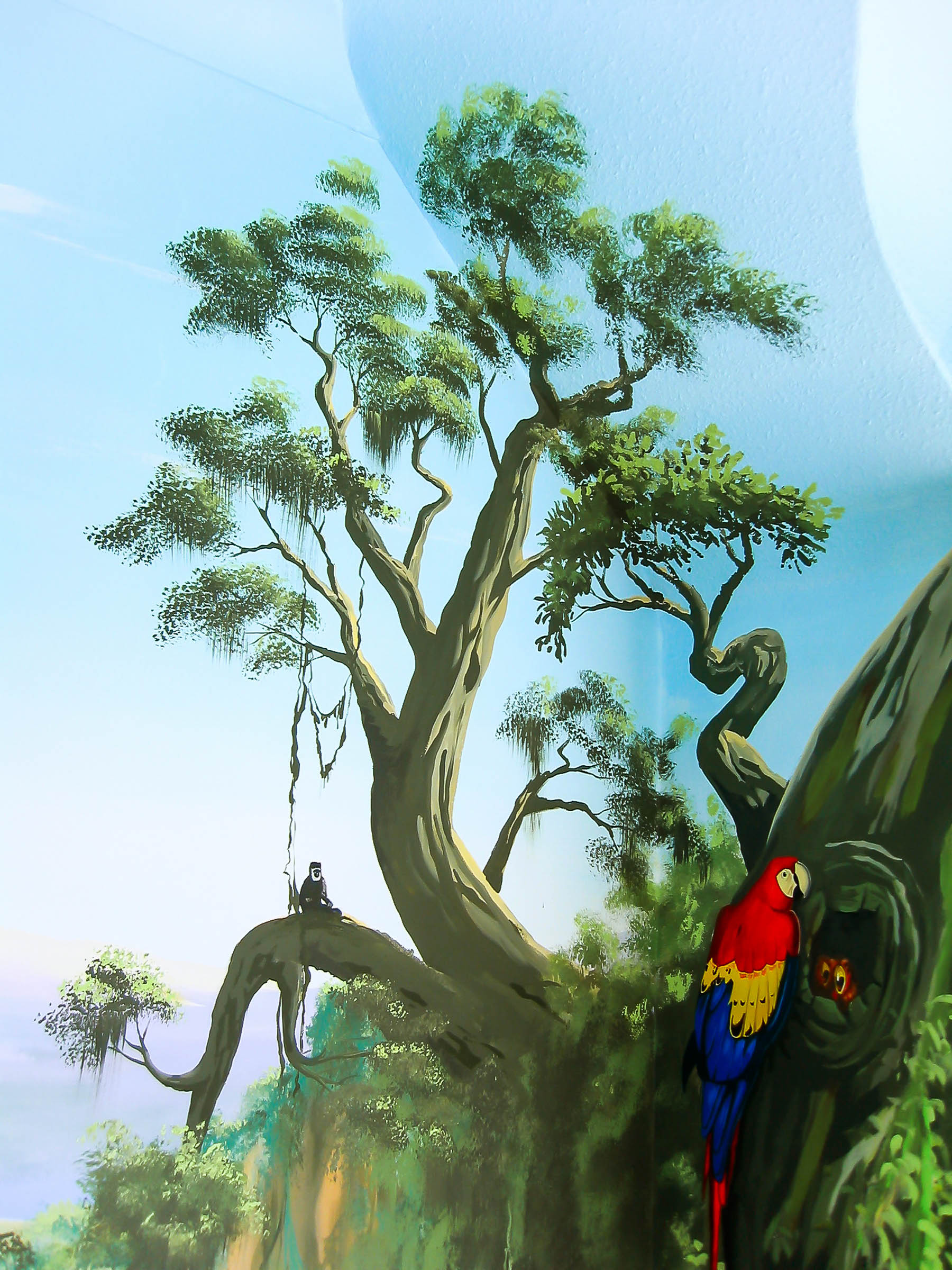 Parrot and a monkey in a couple of trees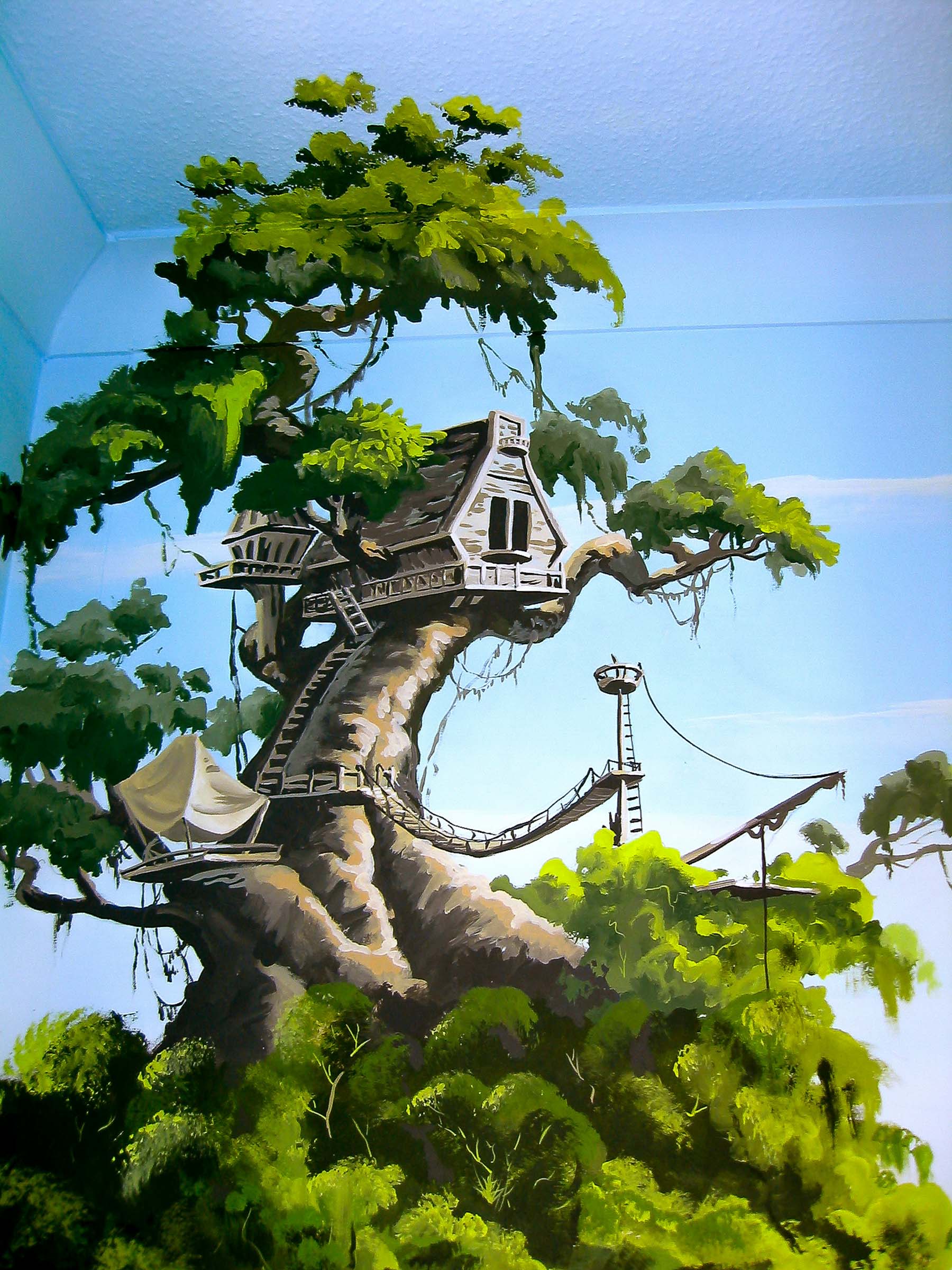 Treehouse in the jungle in this part of the jungle mural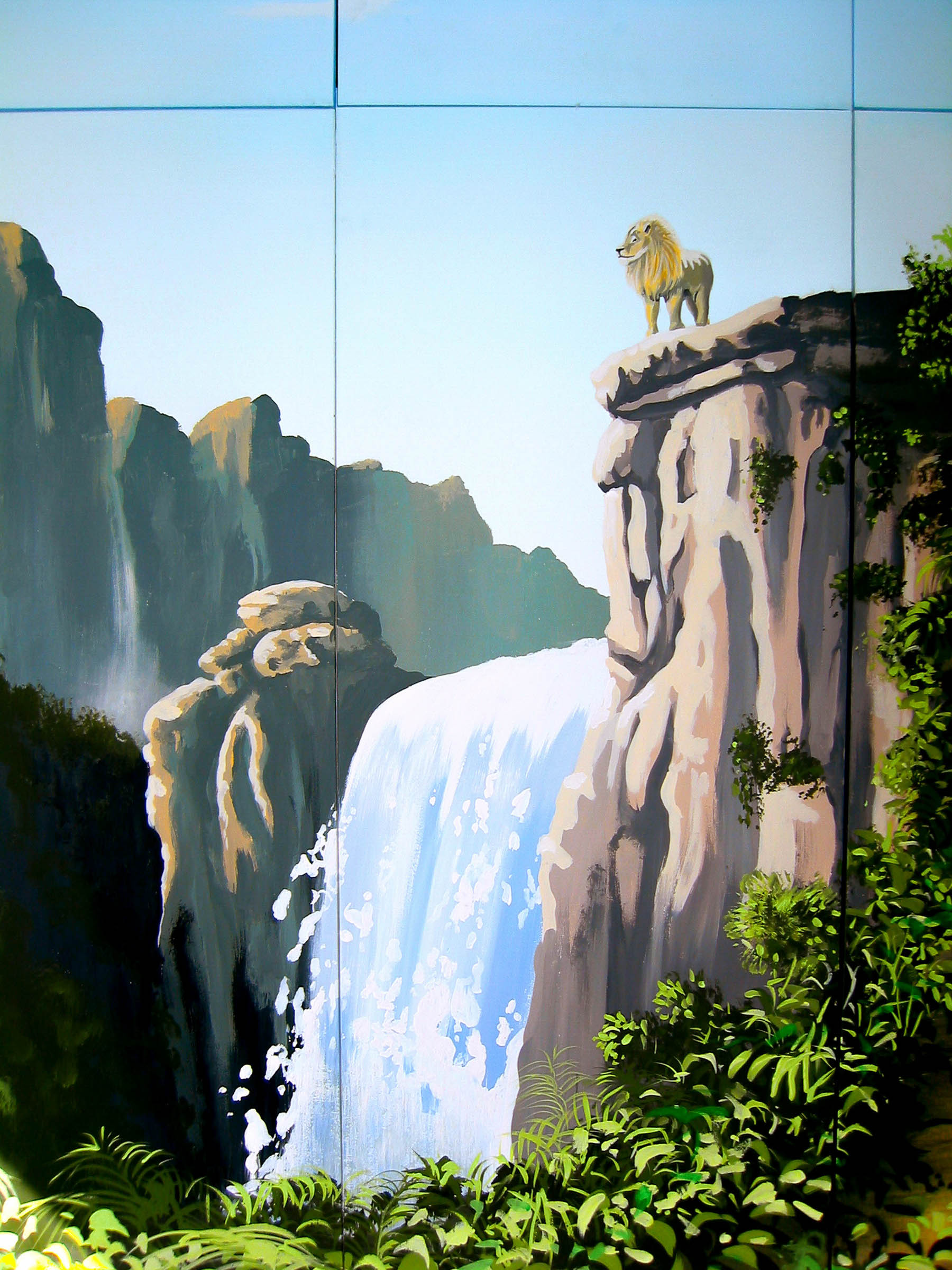 Waterfall and lion standing on the rocks painted on the doors of this fitted wardrobe.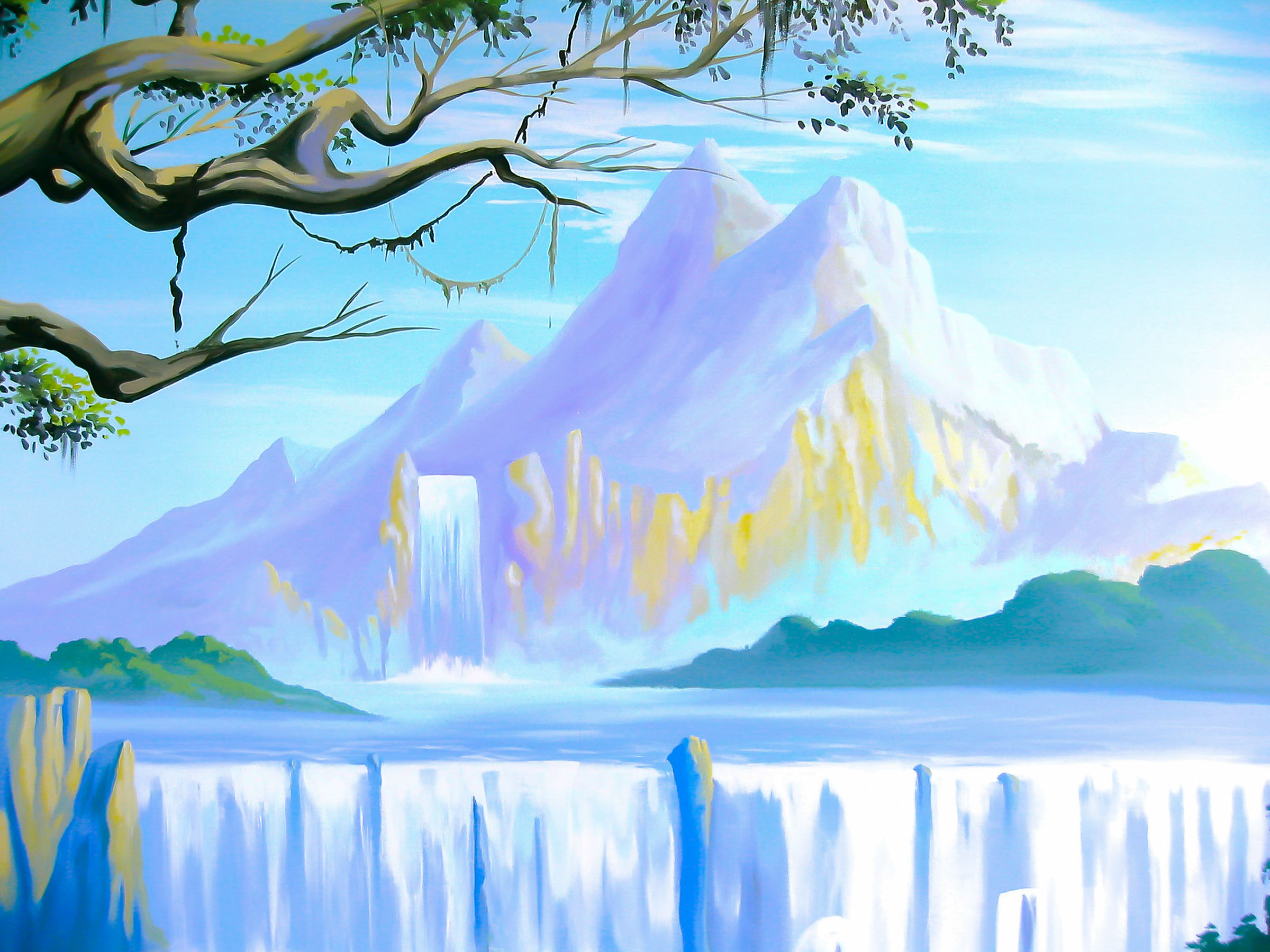 Last picture showing the painting of soft mountains and the grand waterfall. Thanks for looking at this bedroom jungle mural. If you would like something similar, or something else entirely, then please get in touch to get a free quote
A little more info about this mural:
This fab Jungle Mural made a lucky young lady very happy, and features some great details, like the tiger painted over the door, a splendid looking leopard, and a rhino, snake, parrot, orangutan, elephant and even a tarantula, all set against the backdrop of an awesome mountain waterfall in the jungle scene that goes around the whole room. There's also a wonderful Tarzan style treehouse above the tiger skin bed, and lastly I have painted some fitted wardrobes which shows what can be done to create practical and fun storage solutions for your child's room.

Created for a young lady's bedroom, the artwork was hand painted directly on to the walls, and protected with a topcoat of matt varnish.

Date - April 2003
Location - Tenterden, Kent, UK