Painted in the son's bedroom of Emma Bunton (Baby Spice of Spice Girls fame) and Jade Jones' (Damage).

The mural design features many of the film's great characters like Lightning McQueenand Mater also Sally, Doc Hudson, Luigi, Guido, Sheriff, Chick Hicks and many more, plus cameos from Buzz Lightyear and Spiderman. The landscape was designed to look like a cross between the mountains in the Cars movie, and a European race circuit, to bring more green colours into the room. I felt quite honoured to be asked to paint these celebrities' boy's room.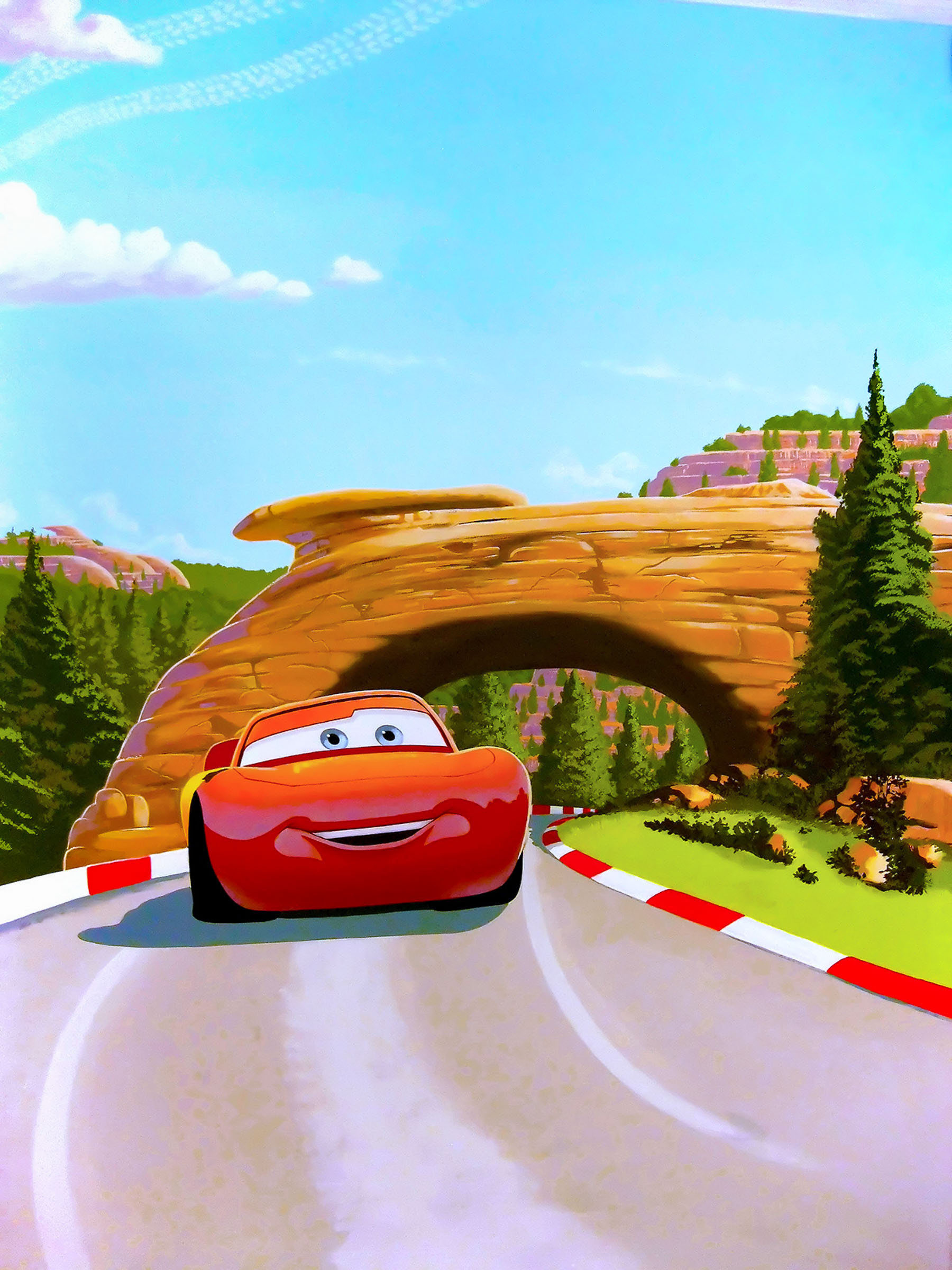 Lightning McQueen roars into the room through the rocky Radiator Springs landscape in this spectacular Cars mural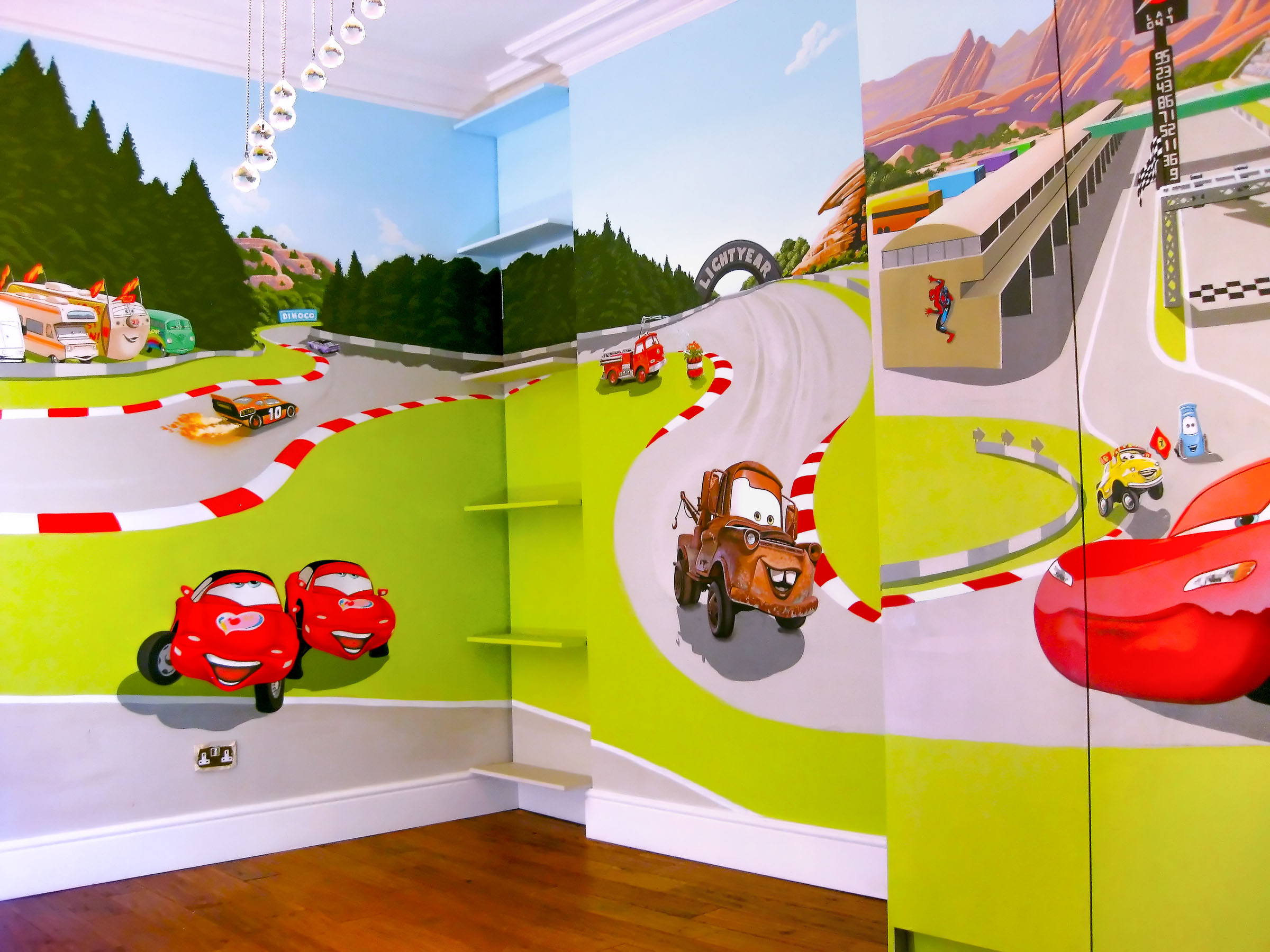 This Pixar's Cars mural goes around the whole room, about 5m x 5m.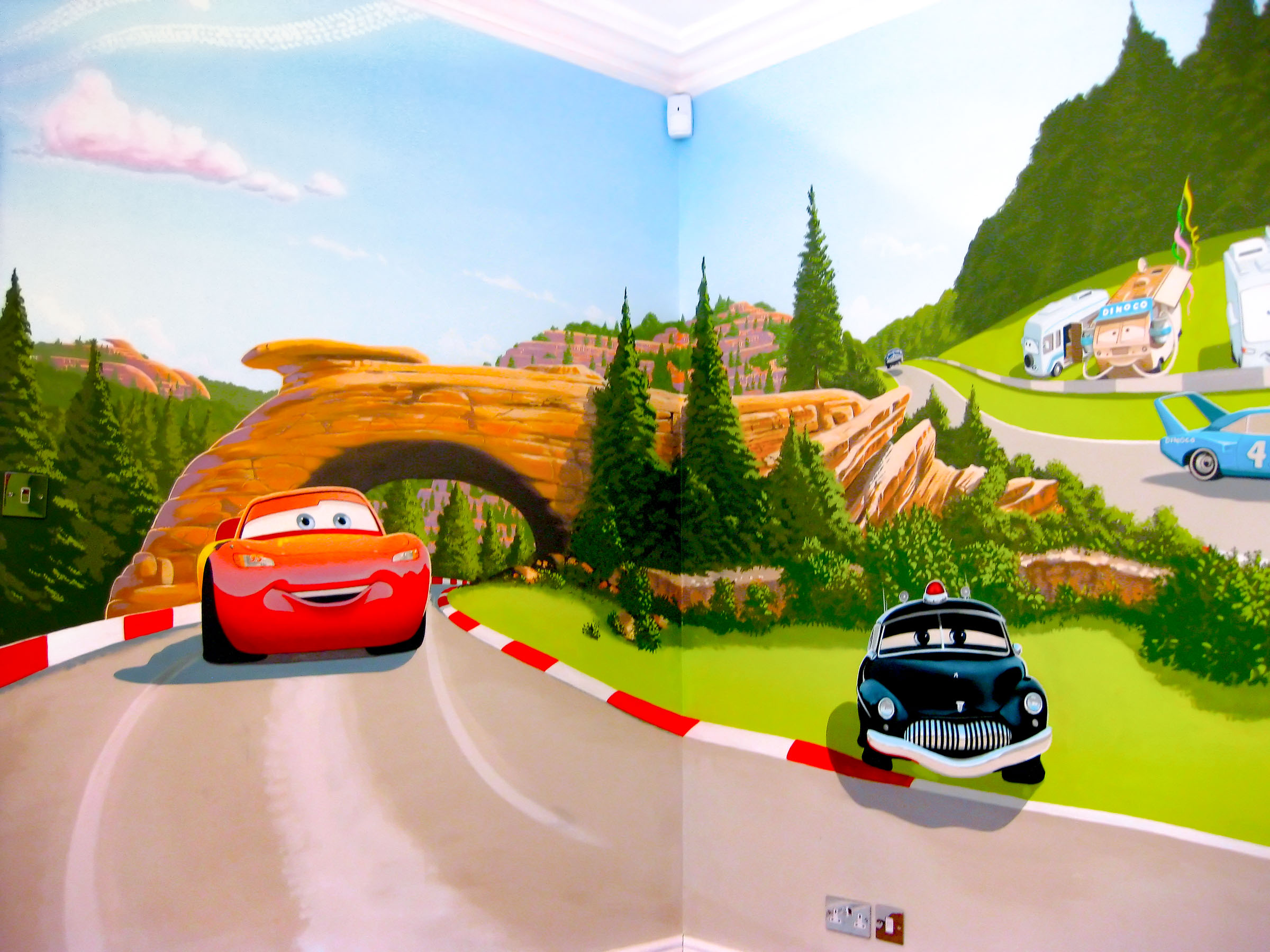 Drawing back a little we can see more of the corner where Mcqueen is racing through, showing the rocky Cars landscape in amongst the trees, and the Sherrif poised...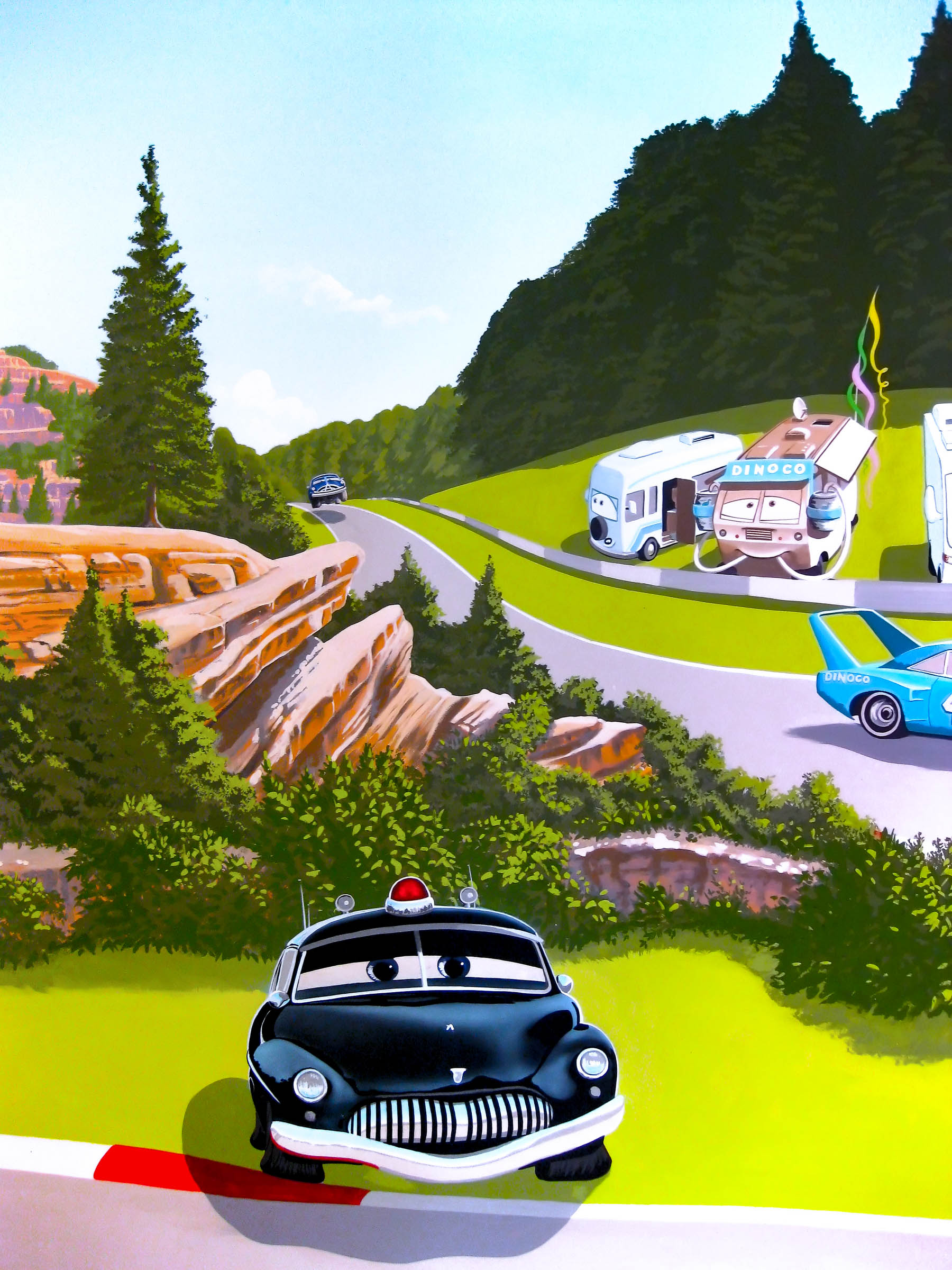 Doc is all fired up flying over the hill, Dinoco's biggest fan RV sups on some coolant, and at the racetrack the Sheriff can't book anyone for speeding here!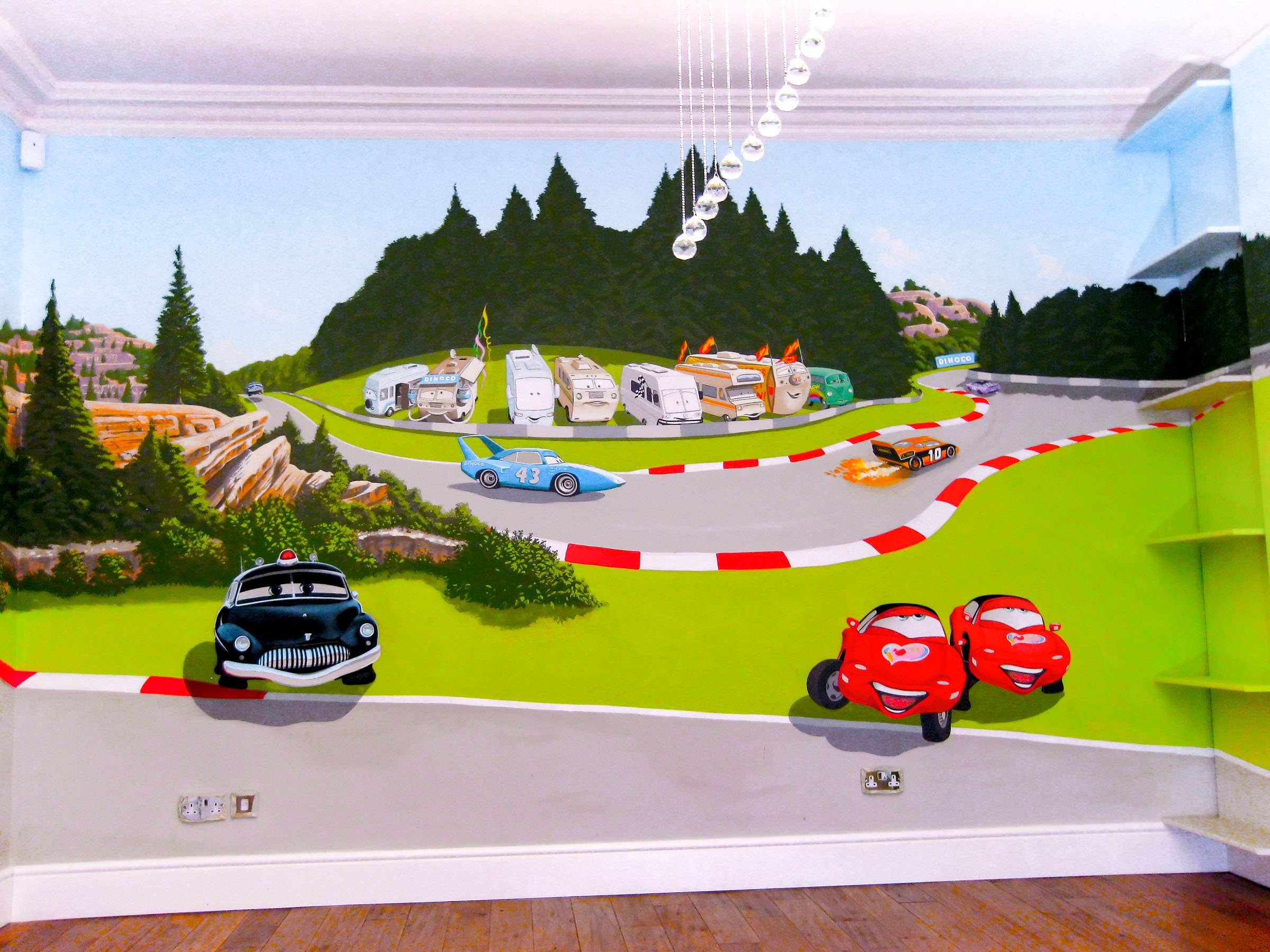 Cars Mural feature wall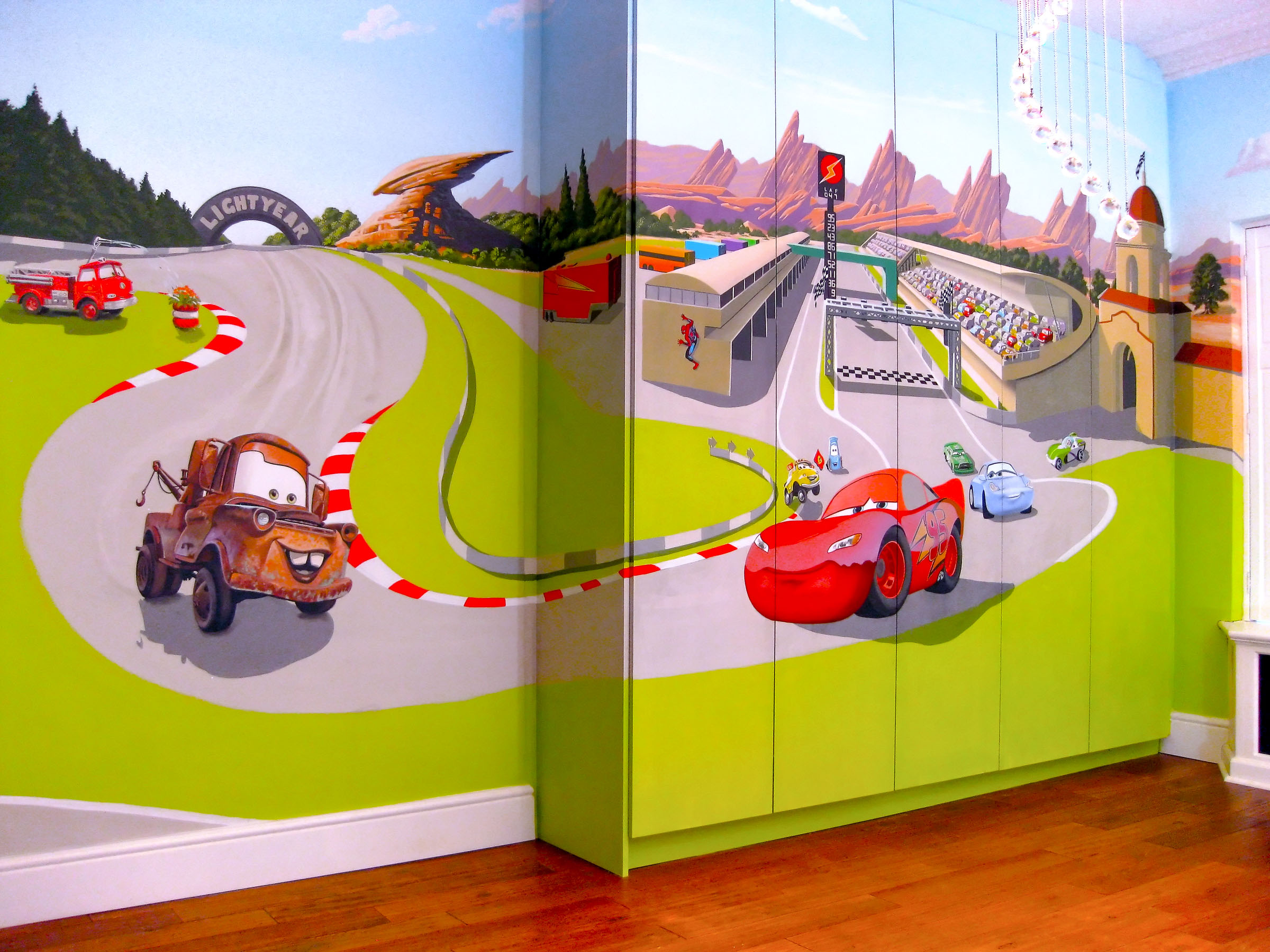 Cars Mural in boy's bedroom, here painted on fitted wardrobe, with Lightning McQueen and Mater, and other Cars chatracters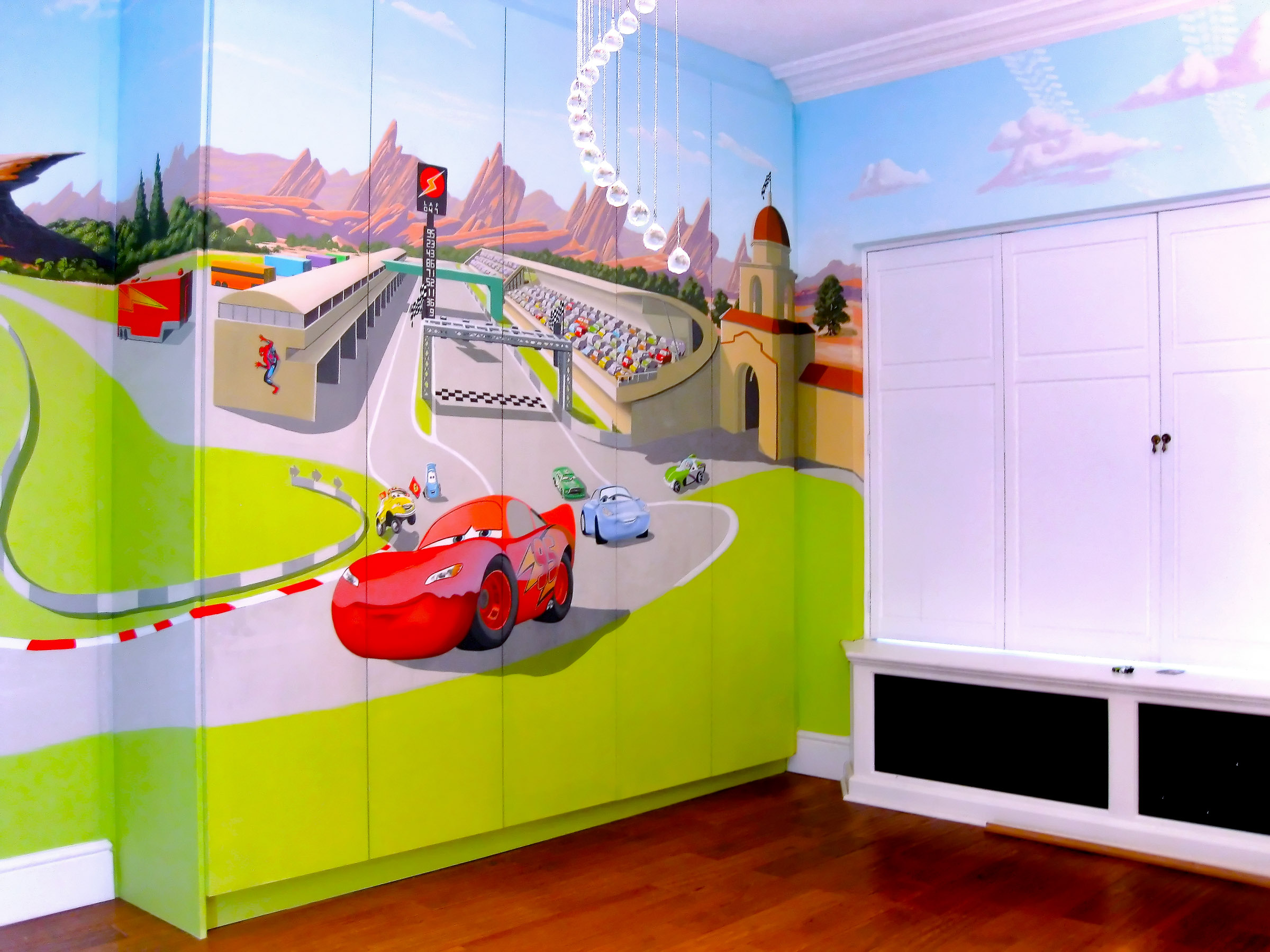 Further around the room, towards the shuttered windows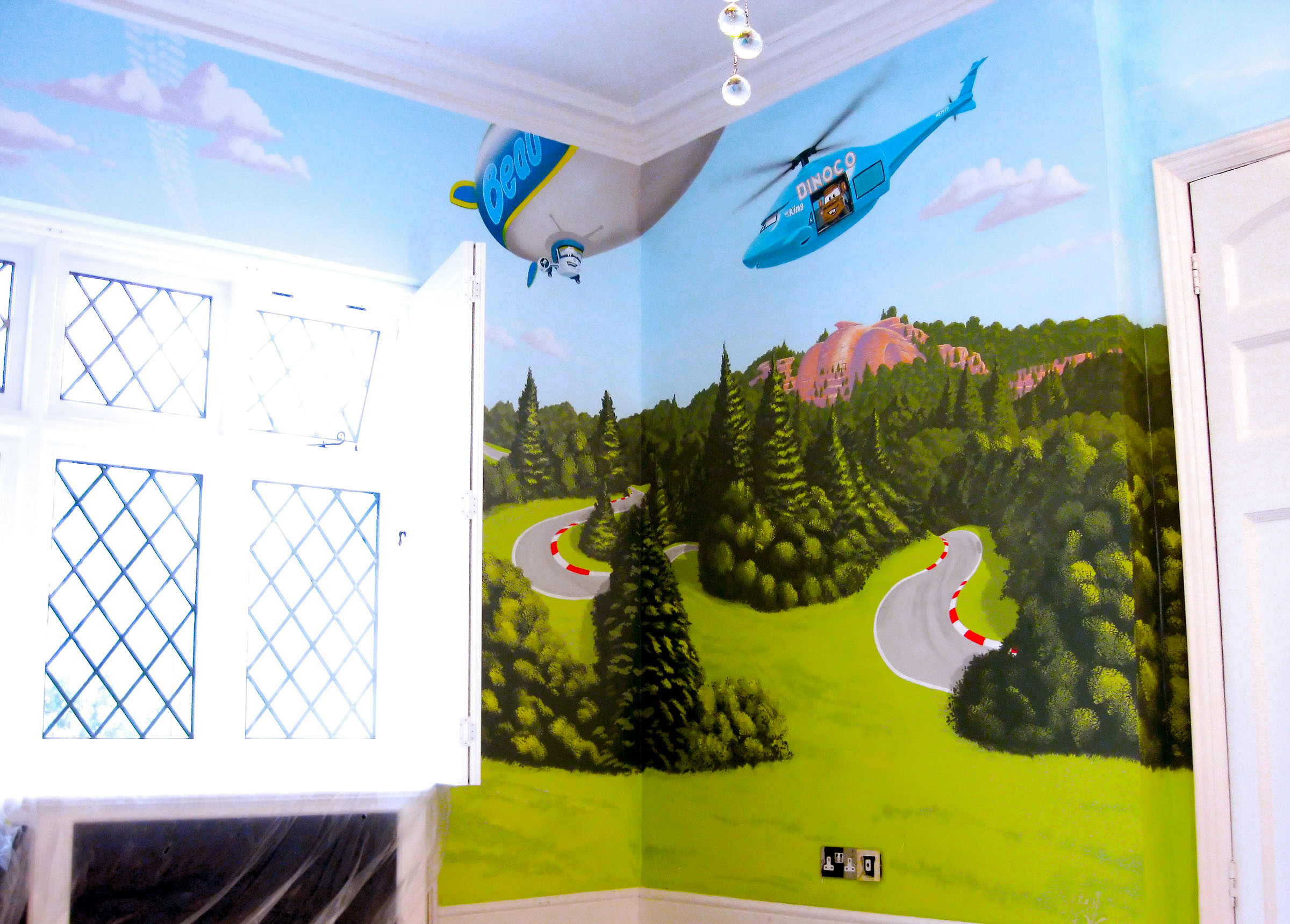 Last corner of the Cars mural, with airship, Dinoco helicopter.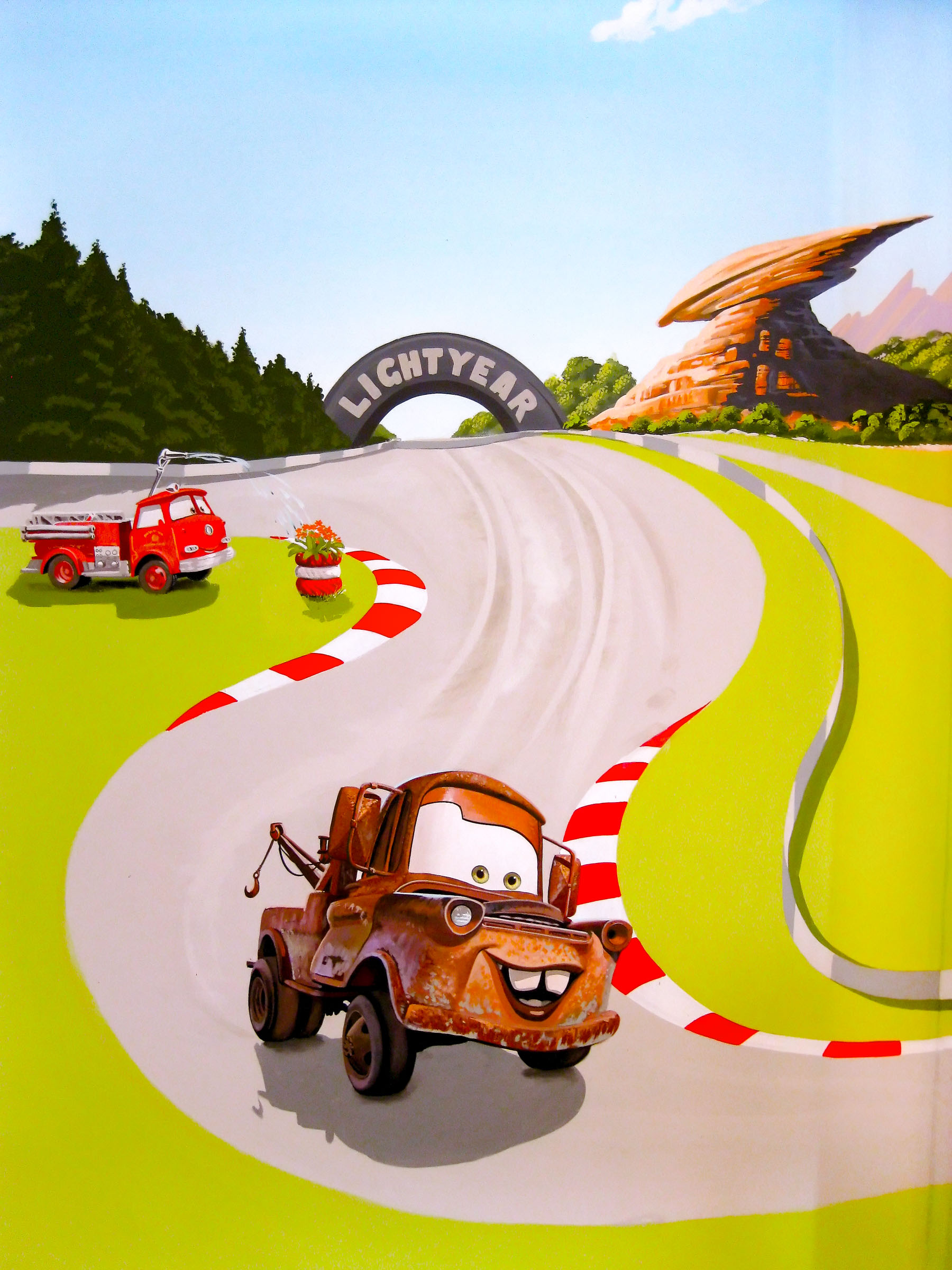 Mater and Red in Emma Bunton and Jade Jones Cars mural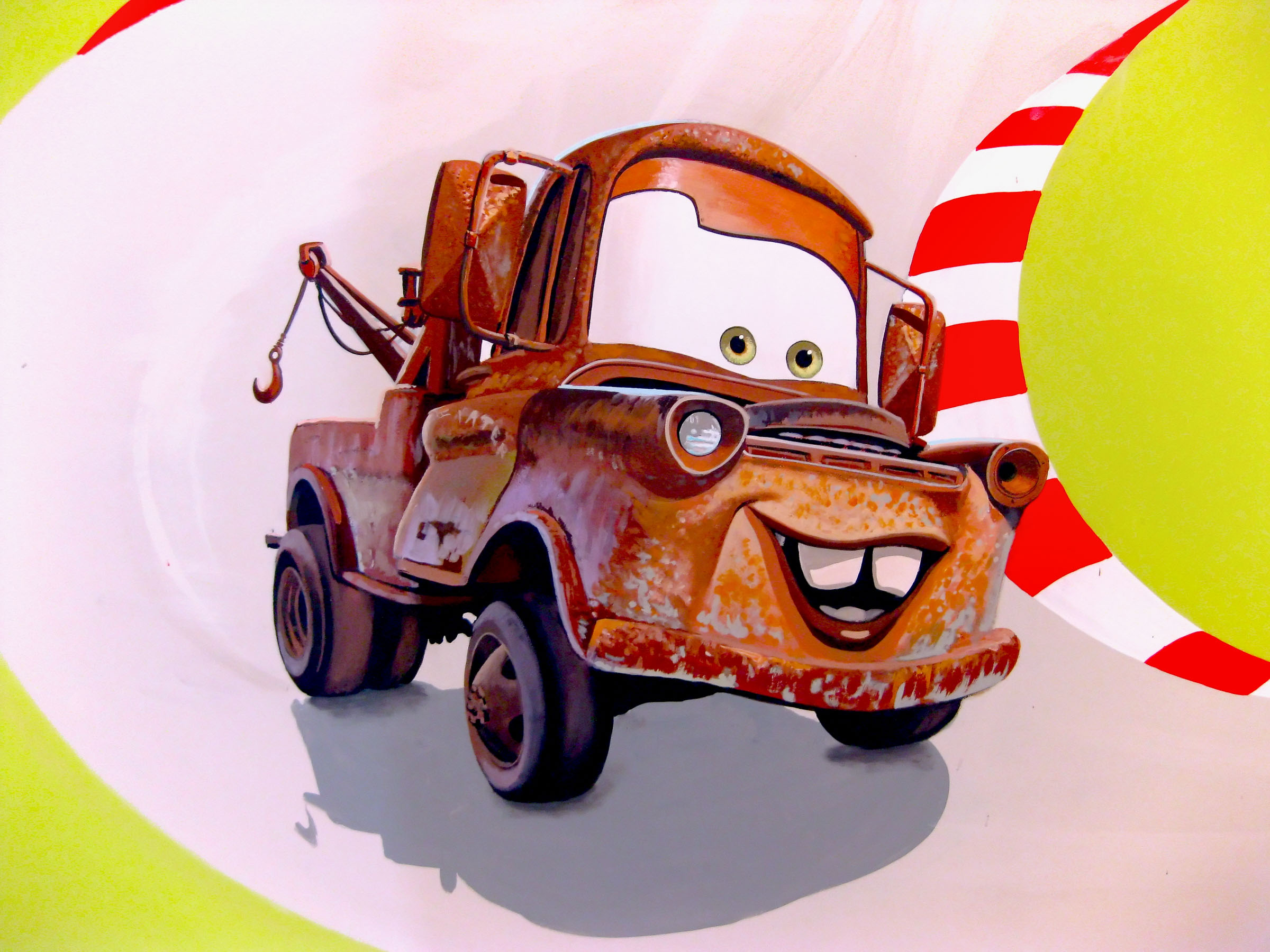 Mater! Backwards driving...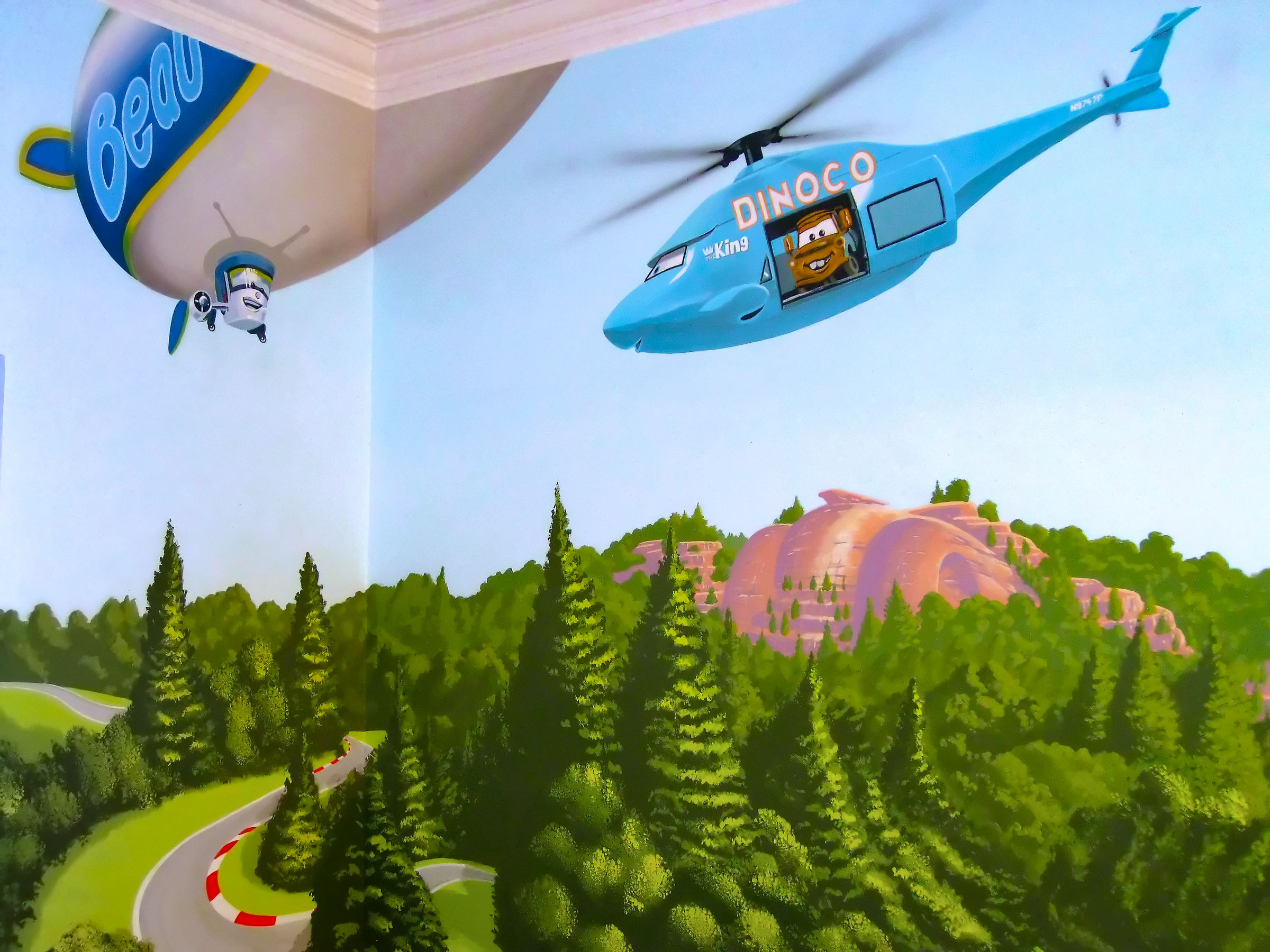 Dinoco corner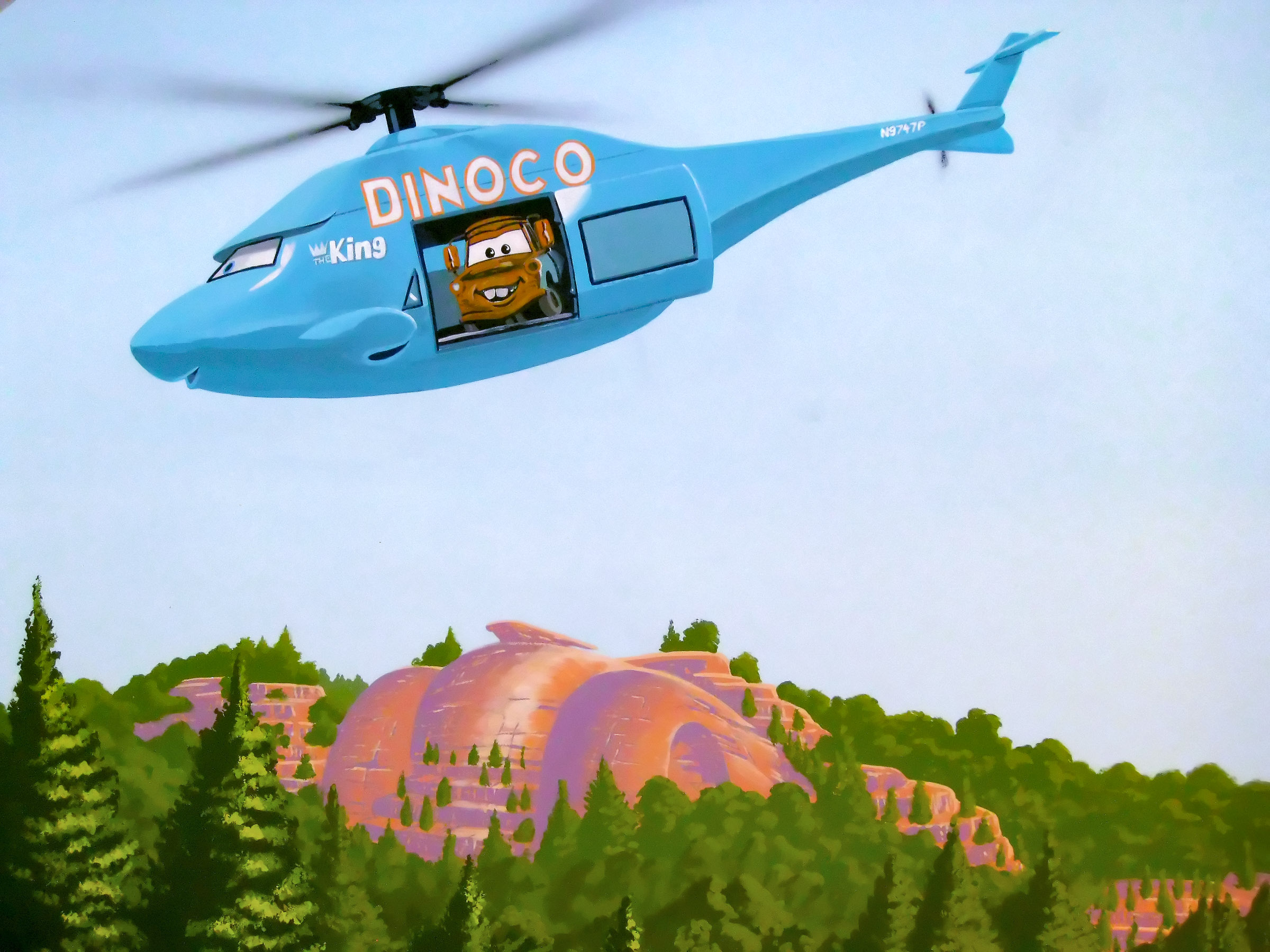 Cars Dinoco helicopter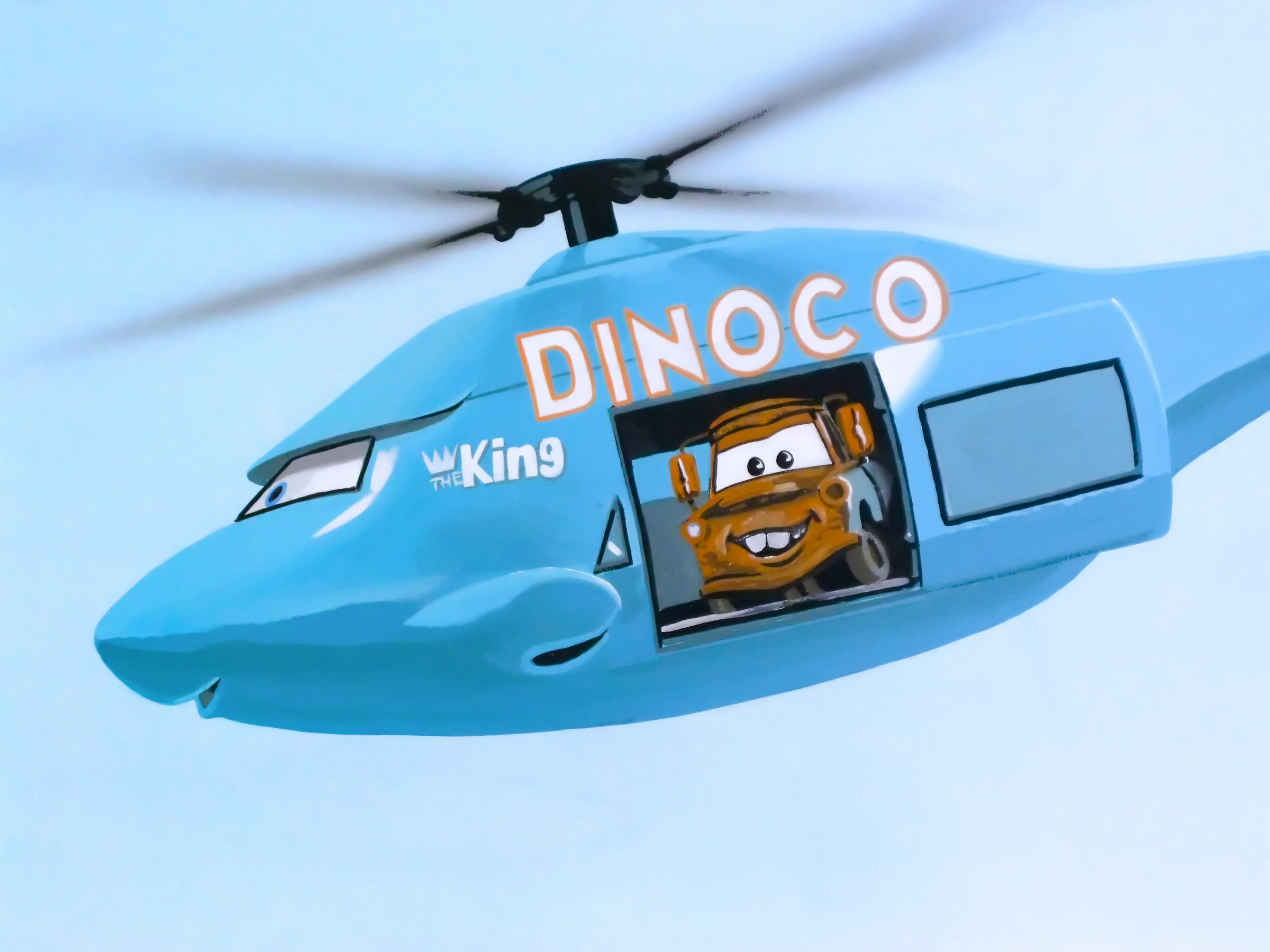 ...and Mater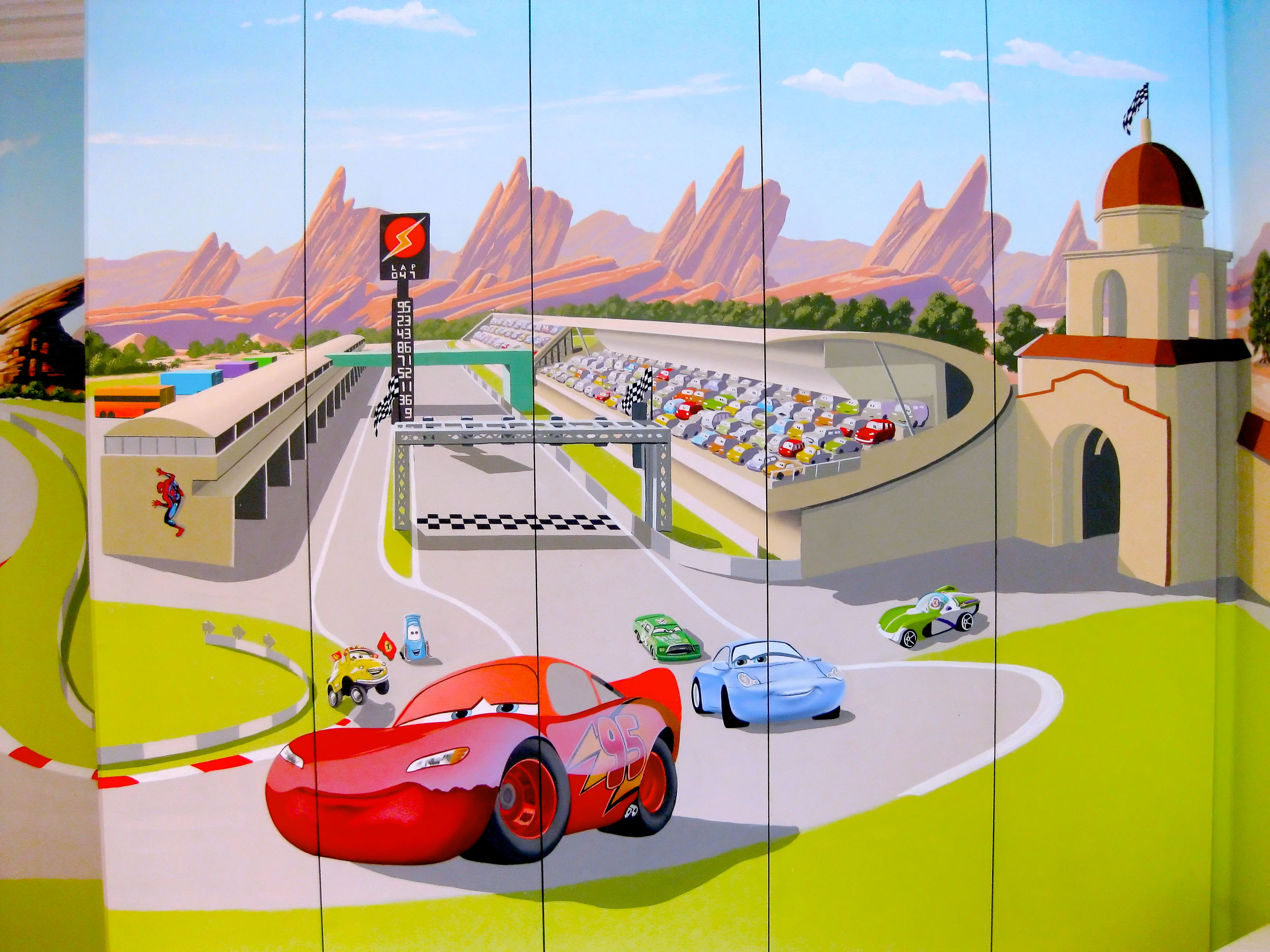 Lightning McQueen, Sally, Chick Hicks, Luigi, Guido at the racetrack on this mural painted on a fitted wardrobe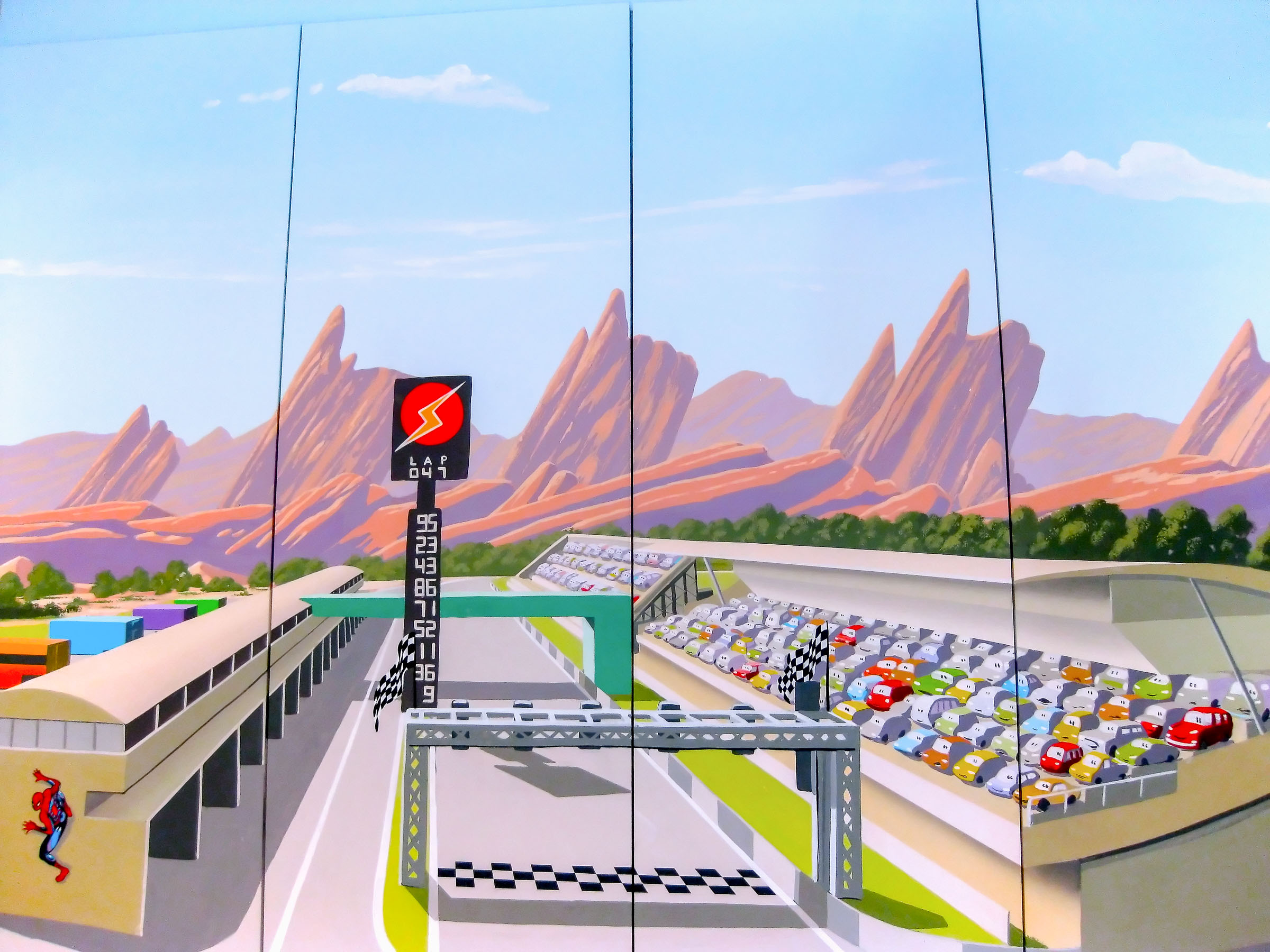 Race track grandstand with Cars crowd, pit lane and Radiator Springs Hills behind, from Pixars Cars. Kids mural with cameo from Spiderman.
..a little bit closer, with cameo appearance from Buzz Lightyear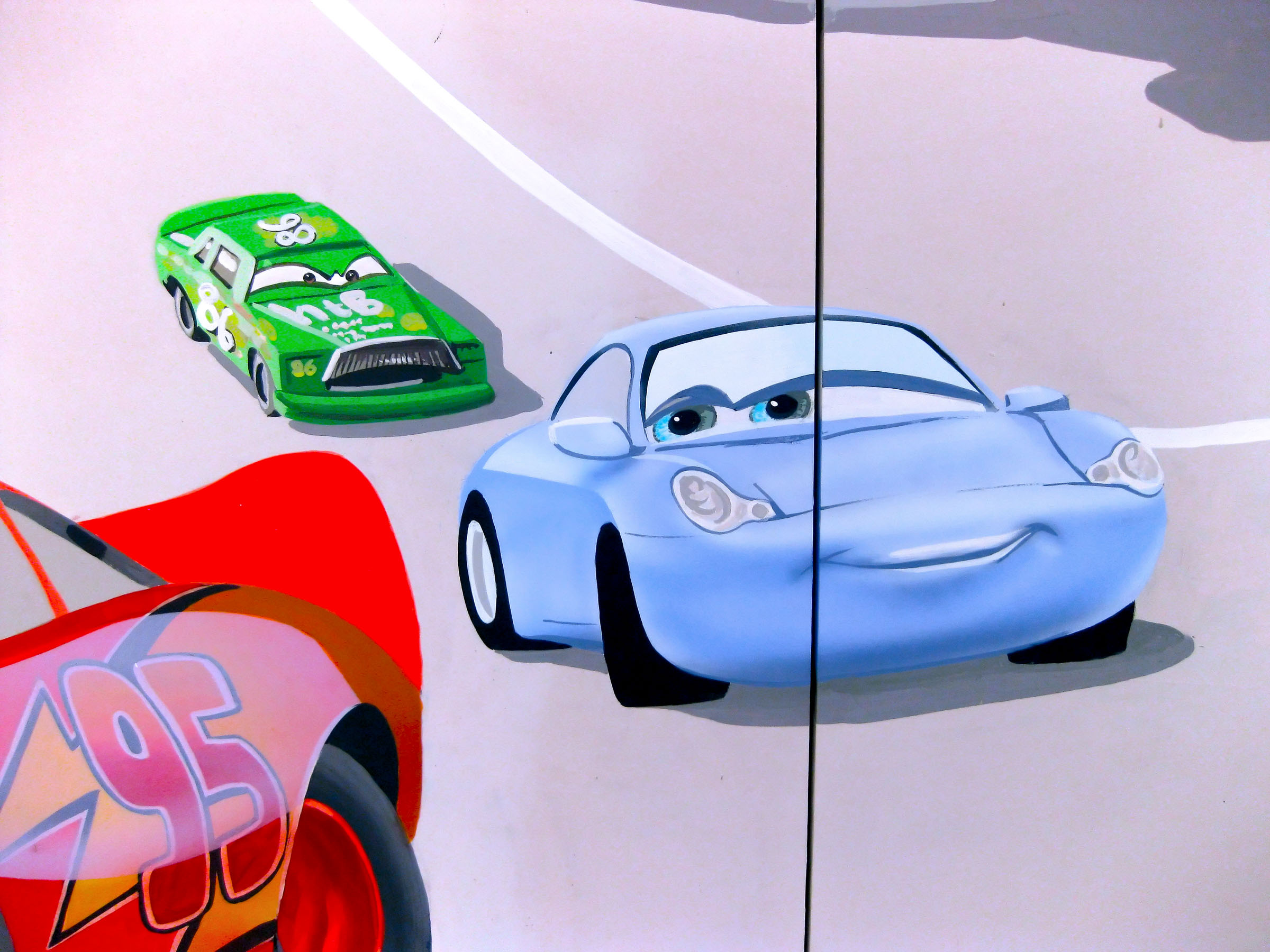 Sally and Chick Hicks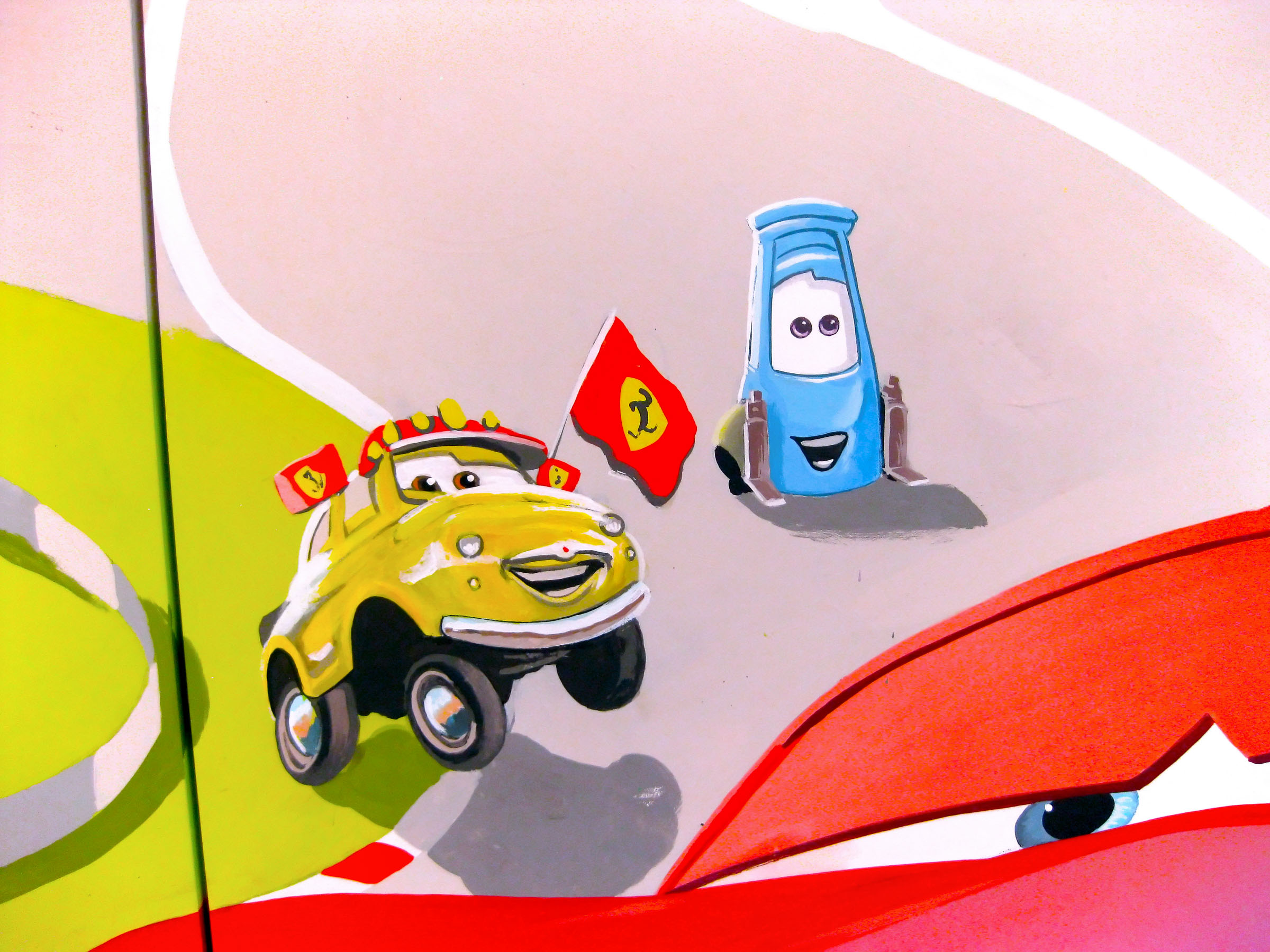 Luigi and Guido, next time I'm doing Guido in that rainbow wig!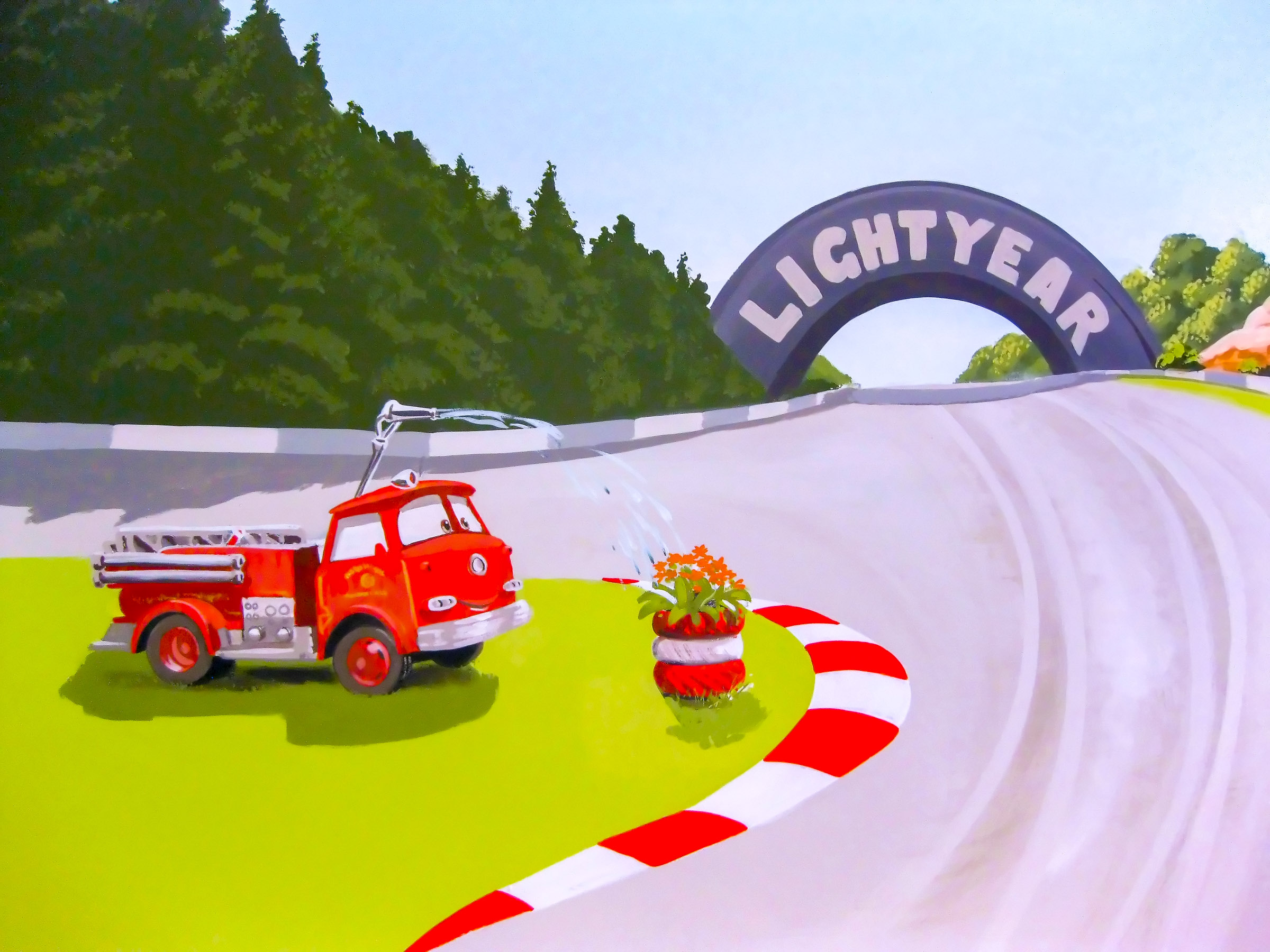 Red watering his flowers - Boy's Mural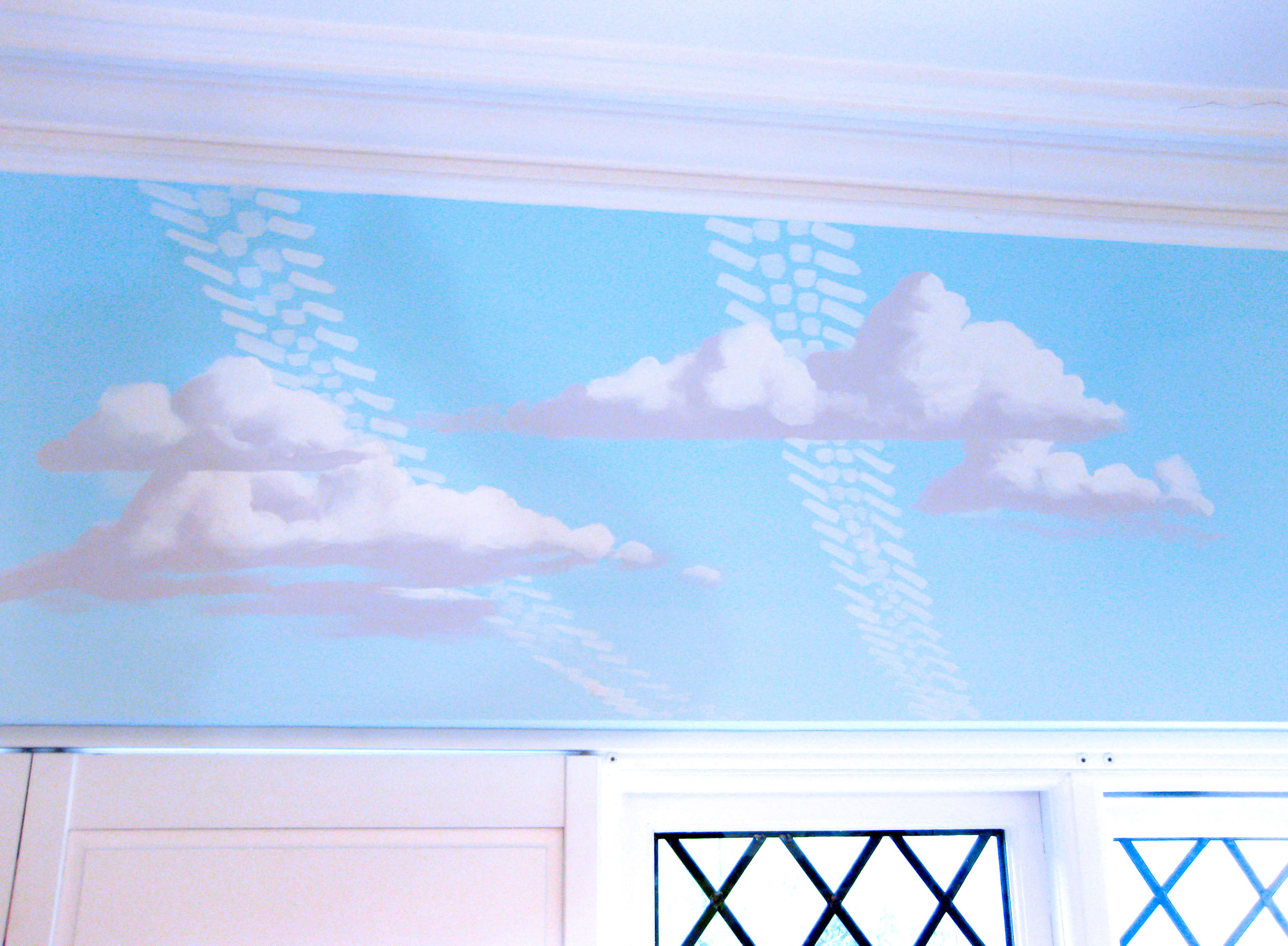 Clouds and Tyre track vapour trails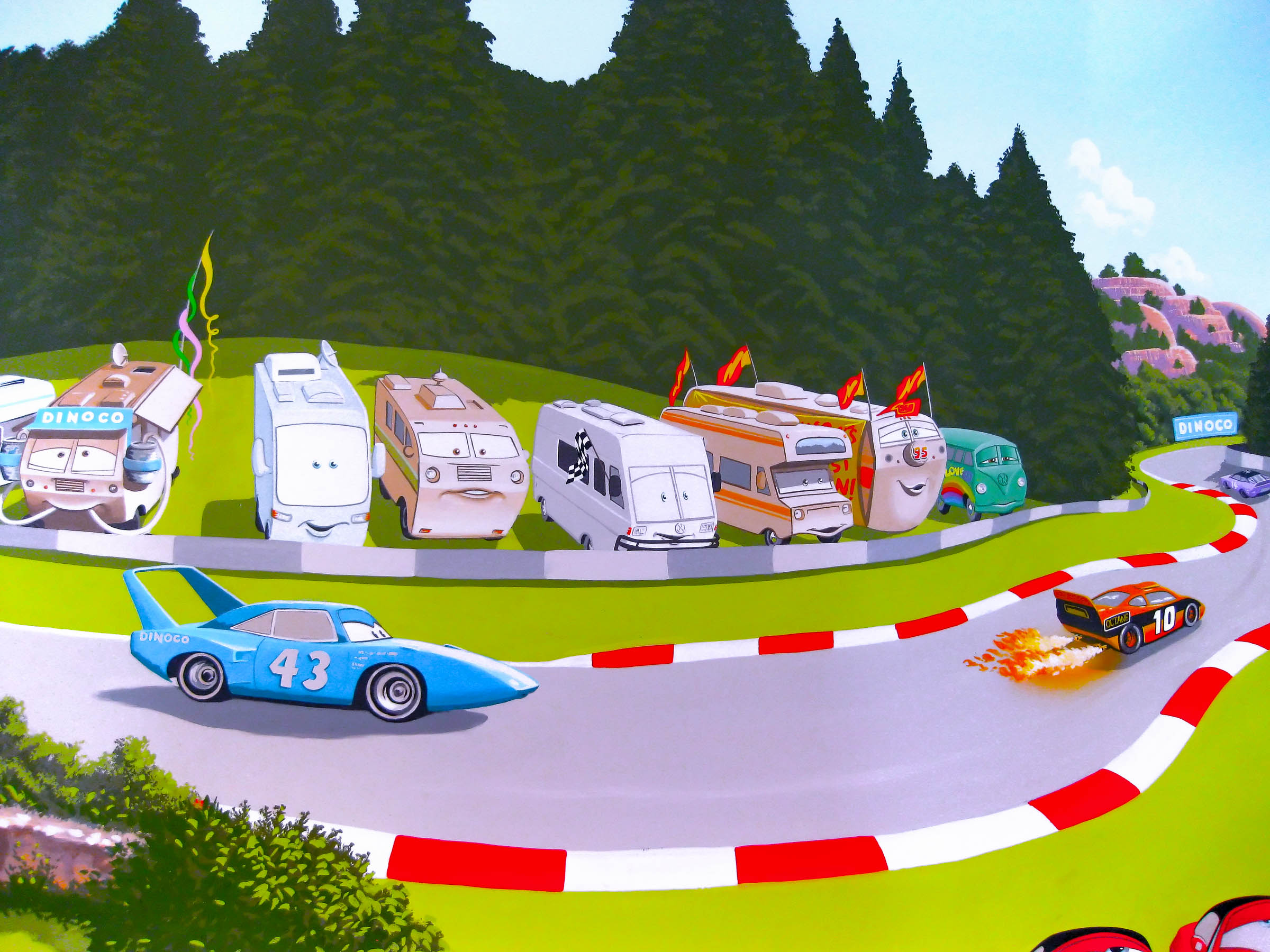 The RV fan base watching The King - and a cameo this time from my VWLT35
More racing fun and the Twins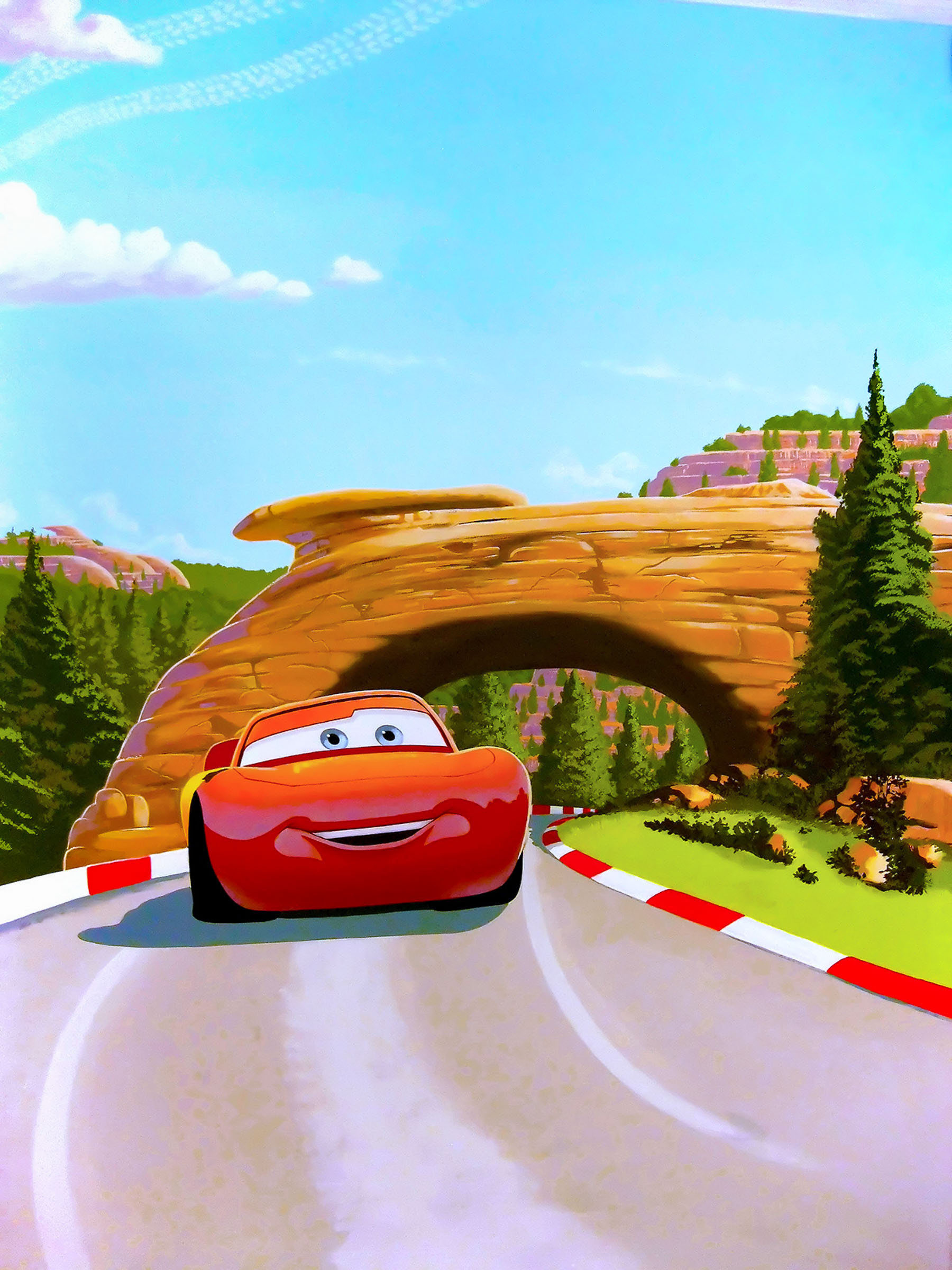 Cars mural with Lightning McQueen
I hope you have enjoyed looking at these photos of this mural, and please get in touch if you would like something similar.
A little more info about this mural:
This fun mural was hand-drawn and hand-painted, directly on to all the walls in this 5m x 5m boy's bedroom, including over a fitted wardrobe.

The mural was painted by hand, directly on to the wall, as are most of the murals on this website.

Date - October 2010
Location - Hertfordshire, UK