Hi there, Neil here and I'm a wall mural artist specialising in high quality hand painted bespoke artwork and murals for your home and business. I have completed hundreds of commissions large and small around swimming pools, garden rooms and outdoor walls, in games and cinema rooms, hospitals, schools etc, and of course in lots of children's bedrooms and playrooms. My work can also be found in many quite diverse places, for instance on restaurant and office walls, or even on the exterior panels of a narrow boat, and is the final touch often needed to create the atmosphere or feeling you are looking for. From the smallest designs to full room interiors and huge walls, I love creating imaginative scenes for kids, or simulating whole environments based on a client's ideas, and always aim to delight and inspire with the work I produce.
I provide my services all across the UK and internationally, for both private and commercial commissions, and I am based in a quiet corner of Dartmoor in Devon, UK. Each commission is created to order, so whether you'd like to play a trompe l'oeil visual trick in a nook or niche of your home, enhance your business's ambience with a feature wall or transform your kid's bedroom, or any walled space into something truly amazing, I can produce something beautifully tailored to fit your world.
Artwork Services include:
To find out more about commissioning a work, please try the frequently asked questions page, read more about the services offered, or to discuss your ideas without obligation, contact me, Neil on 07817 911 379 or contact@sacredart-murals.co.uk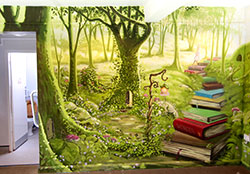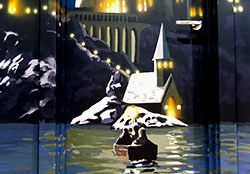 "...Neil Wilkinson Cave magically transformed our school library with the beautiful literary themed woodland mural that you see pictured. Neil is incredibly talented and you should not hesitate to get in contact with him if you have a school, community or even personal space that you would love to transform. I would recommend him one hundred times over - you really should get in contact with him if you even have a seed of an idea about a space you'd like to change!" Kate Munkenbeck Stannard.